The CEO of Fáilte Ireland, Shaun Quinn, today emphasised that the tourism authority's new 'Wild Atlantic Way' initiative has the potential to attract significant numbers of additional visitors into Donegal during 2014.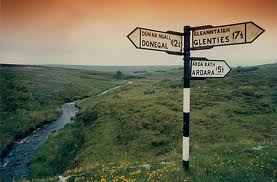 This boost to the county follows a year of improving overseas visitor numbers and business growth in the local tourism industry.
Speaking during a visit to the county, Mr Quinn said Donegal saw significant growth in visitor numbers last year and much of this can be attributed to all those local communities who seized on the possibilities offered by Fáilte Ireland's 'The Gathering' initiative.
"This year we have another card to play and another opportunity to grow local tourism – with 'The Wild Atlantic Way' and I'm sure everyone with an interest in tourism will get behind this also."
Citing recent Fáilte Ireland research, Mr Quinn pointed out that visitor numbers for the North West region were up an estimated 10% last year and that almost two thirds (62%) of local firms in the region were recording significant overseas visitor growth.
Much of this growth was driven by The Gathering with Donegal finishing in the top ten in terms of Gatherings across the country.
Overall, there were 300 Gathering events in the North West with 195 events in county Donegal alone and the types of events included family, school, business and group reunions as well as cultural, activity and historical celebrations.
Meanwhile, surveys of domestic and overseas holidaymakers, who visited the region between May and October 2013, showed that the friendliness and value to be found in the North West were stand-out features of a trip to the area.
Key points of Fáilte Ireland's Visitor Survey of the North West included:
98% of visitors rated the friendliness of the North West people as good or very good;
88% of visitors rated the value for money aspect of their holiday as good or very good;
Almost 6 out of ten visitors surveyed said they were extremely likely to recommend the North West as a holiday destination.
Many visitors cited their main reason for visiting the area was beautiful scenery (26%) and history/culture (11%) and key locations visited included Glenveagh National Park (34%) Sliabh Liag (29%) and Inishowen (18%).
The most popular activities while holidaying in the North West were:
Hiking Walking (42%) – much higher than national average of 20%
National Park (32%) – much higher than national average of 20%
Traditional music and dance (24%) – higher than national average of 18%
Water-based (10%) – much higher than national average of 3%
Commenting on the latter findings, Mr Quinn said "Donegal has a lot to offer visitors. The good news is that, with its emphasis on landscapes, outdoor activities and an authentic interaction with Ireland's western sea-board counties, the Wild Atlantic Way is tailor-made for local tourism."
The Wild Atlantic Way is a new major tourism initiative for the western seaboard is a long distance driving route from Donegal to West Cork with a total length of up to 1,300km showcasing Ireland's coastline.
The new route aims to create a corridor along the Atlantic coast which will link destinations and attractions together, creating a shopping isle of experiences and opening up access and possibilities in the visitor's mind.
It is intended that the Wild Atlantic Way will rival many of the well-known long distance driving routes around the world, such as the Great Ocean Road in Australia and the Garden Route in South Africa. Most importantly, it will provide a brand and product of sufficient scale and singularity to gain that all important visibility in our overseas markets.
Failte Ireland is working with Donegal County Council in developing the Wild Atlantic Way locally. The route takes in the entire coastline of County Donegal and will be a magnificent selling point for the county. Local signature points along the way include Sliabh Liag, Fanad Lighthouse and Malin Head.
Over the last few weeks the Councils Roads Division have been erecting signage along the Donegal branch of the route which stretches from Inishowen right through to Bundoran.
The first signage has already appeared on the Inishowen roads and all signage will be erected in time for the start of the tourism season in March.
In the meantime, Fáilte Ireland will be holding a number of community meetings along the Wild Atlantic Way (including Dunfanaghy, Ballyliffin and Killybegs in Donegal) to engage with local communities and more details of these will be available in the coming weeks.
Mr Quinn added "We will be inviting everyone from the local communities to come along and hear about the Wild Atlantic Way and learn just how to take advantage of this opportunity. In 2013 The Gathering significantly boosted local tourism.
"This year we will be heavily marketing the Wild Atlantic Way at home and abroad and this initiative offers us another vehicle to develop additional tourism visitors, revenue and jobs for the county."
Tags: