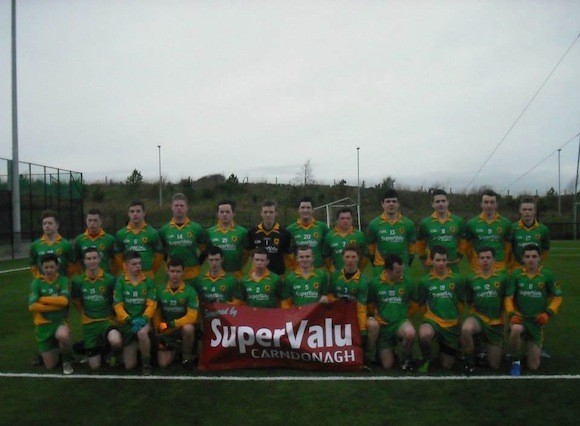 Danske Bank MacLarnon Cup quarter-final :
Coláistí Inis Eoghain 3-9 St Patrick's Downpatrick 3-6
The key moment in this Danske Bank MacLarnon Cup semi-final yesterday in Garvaghy was a black card awarded against Downpatrick midfielder Aidan Fegan just before the break.
The Red High had played well into the breeze and were ahead by 2-3 to 0-6 at that point with Fegan and John Bell playing brilliantly at midfield, and goals from Bell and full-forward Frank Starkey.
Caolán McGonagle tapped over the resultant free, his third point of the half, but it still looked ominous for the north east amalgamation when Aaron McClements pointed a free on the re-start.
However Downpatrick failed to convert other scoring chances and gifted two goals to Kevin McLaughlin in the 34th and 37th minutes, allowing him possession of shots that were held in the breeze.
Conor Malone volleyed a goal in response for Downpatrick and a great point from PJ Davidson put them 3-6 to 2-7 up entering the last quarter.
Inis Eoghain then gained a life-line with a penalty award for a foot block in the 52nd minute that allowed McLaughlin to complete his hat-trick and the same player curled over a late point to tie down a semi-final spot.
Colaisti Inis Eoghain: Jordan McLaughlin, Jack O'Loughlin, Danny Monagle, Stephen O'Donnell, Gary Doherty, Tony McCleneghan, Sam Doherty, Caolan McGonagle 0-3, 0-2 frees, Fergal Doherty, Ultan Doherty, Sean McHugh 0-1, Mark Coyles, John Campbell 0-4, 0-1 free, Kevin McLaughlin 3-1, 1-0 pen, Christopher McLaughlin.
Subs : Aidan McLaughlin for C McLaughlin (26), James Jackson for U Doherty ht.
St Patrick's : Jonathan Deeny, Mark McGrady, Sean Hardy, Pearse Laverty, PJ Davidson 0-1, Oisin Teague, John Yarr, Aidan Fegan, John Bell 1-0, Ciaran Harney, Aaron McClements 0-3 frees, Eoin King, Owen McEvoy 0-2, Frank Starkey 1-0, John Shields.
Sub : Conor Malone 1-0 for A Fegan (30 mins).
Referee : Cathal O'Hagan (Tyrone)
Tags: