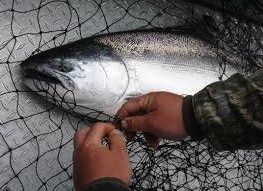 A MAN caught by fisheries protection officers with a salmon and a net on the River Finn insisted he hadn't been poaching – but was just holding them for a man he never met before.
Patrick 'Paddy' McMenamin, from Doneyloop Estate, Castlefinn, was detained on the river on June 11, 2013.
An illegal gill net was found with a small salmon meshed in the net.
McMenamin had previous convictions for similar offences in 1997 and 1998.
He said he lives half a mile from the river and met another man who was well-equipped and was wearing a wet suit who gave him the net to hold.
"I'm never near the water; it was only that night that I was down," said Mr McMenamin.
Judge Paul Kelly told him it had been "a very expensive offer of assistance" adding: "You should have told the man with the net to take his net elsewhere."
McMenamin was fined €150 for possession of the fish, €150 for the possession of the net and ordered to pay costs of €350.
Tags: