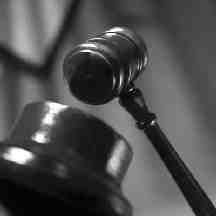 Sentence has been reserved at a court in Belfast in the case of a former Irish soldier from Donegal who admitted using a gun to try and force a PSNI officer to leave his home in Co Fermanagh.
The soldier, who is from Letterkenny, and his co-accused denied they had planned to shoot the policeman.
In November 2009, Gerard McManus from Fernhill, Letterkenny, was arrested outside the home of a trainee PSNI officer in the Fermanagh border town of Garrison.
It was alleged that Mr McManus, who was a member of the Irish Army Reserve based at Finner Camp, had been wearing a balaclava and had fired a shot at police officers chasing him.
In a car nearby police arrested Kevin Nolan, from Main Street, Blacklion, Co Cavan, who was allegedly sitting on a loaded pistol magazine.
Both men denied planning to shoot the trainee policeman and claimed they wanted to put the frighteners on him to force him out of the area.
They admitted to having a firearm with the intent to endanger life and are to be sentenced in the next few weeks.
Tags: