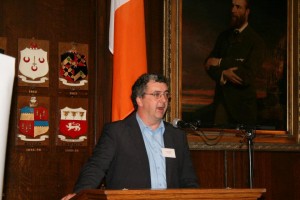 DONEGAL TD Thomas Pringle has welcomed the opposition Bill that has been accepted by government that would give recognition to Down Syndrome as a 'low incidence disorder', but has called for everyone involved to keep battling on to ensure the government sticks by its word.
"This Bill by Independent Finian McGrath is vital to ensuring that when recognising this condition as a 'low incidence disorder', meaning disorders that automatically qualify for resource teaching hours, that quality educational provision is provided for these children in mainstream schools.
"As a member of the 'All Party Group for Supports in Mainstream School for Children with Down Syndrome' I am committed to this issue, and from speaking to concerned parents in Donegal on a regular basis I understand the implications of not having Down Syndrome recognised as a low incidence disorder, and the urgent need for these children to receive resource teaching hours so that their specific educational needs may be addressed.
"Currently for Down Syndrome children with mild learning disabilities, special needs teaching comes from set hours each school must share out to all pupils with less severe learning difficulties. This causes many complications, as was noted by the report from Children's Ombudsman Emily Logan last May when she criticised the department's response to previous complaints about the policy.
"I have been working on this issue for some time and have pressed Minister Quinn and the National Council for Special Education on this issue many times. Time after time I was informed that as highlighted in the National Council for Special Education's report on 'Supporting Children with Special Educational Needs in Schools' which was published last May, children should be allocated additional resources in line with their level of need, rather than by disability category. This effectively means that Down Syndrome should not be recognised as a low incidence disorder.
"In some ways I welcome the direction that has been taken in this regard; what I've had problems with is the children who are left in the dark while this new approach is being devised, as it certainly won't happen overnight. That is why I have supported Down Syndrome being recognised as a low incidence disorder. What I fear now is that this Bill may be put on the backburner and I think we all deserve an honest explanation for the change of heart, because right now it seems like a ploy to keep us all quiet.
"Down Syndrome Ireland and so many parents nationwide as well as Deputy McGrath, myself and others have worked so hard on this issue, so it's of vital importance that we continue to fight on and make sure this government puts its money where its mouth is," stated Pringle
Tags: