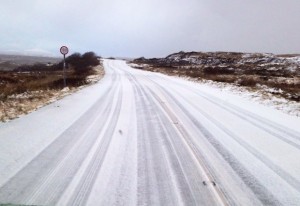 BREAKING NEWS: MET Eireann and the BBC have issued warnings for snow and ice for Donegal today (Thursday).
Up to 3cms of snow is expected to fall today, with more on higher ground.
Motorists are once again warned to take care on the roads which are already wet from last night's storm.
This will cause freezing road conditions in most areas, especially inland.
BBC in the North is predicting snow in Co Donegal through Thursday morning, with the south and west of the county worst affected
STATUS YELLOW ALERT
Snow-ice Warning for Countrywide
Scattered snow showers overnight and during the day generally giving accumulations of less than 3 cm.
Valid:Thursday 13 February 2014 00:01 to Thursday 13 February 2014 18:00
STATUS YELLOW – Weather Alert – Be Aware
The concept behind YELLOW level weather alerts is to notify those who are at risk because of their location and/or activity, and to allow them to take preventative action. It is implicit that YELLOW level weather alerts are for weather conditions that do not pose an immediate threat to the general population, but only to those exposed to risk by nature of their location and/or activity.
Tags: