More than 100 truck drivers met in Letterkenny to discuss proposals to charge hauliers a levy on drivers entering Northern Ireland and Britain.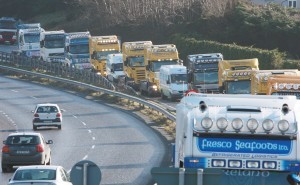 The large turn-out voiced their opposition to the proposed legislation which will see truck-drivers forced to pay up to £10 a day to enter the North from April.
The meeting, which was held at the Swilly Group headquarters, heard angry opposition to the proposals.
Some drivers said that if the proposed legislation comes to pass, they will have no option than to stop driving altogether.
Spokesman Christy Gallagher said they now planned to send a delegation to both Leinster House and Stormont in a bid to explain their fears to both Governments.
The meeting was attended by politicians including MEP Pat The Cope Gallagher, Junior Minister Dinny McGinley as well as TDs Joe McHugh and Charlie McConalogue, Mayor Ian McGarvey.
Also at the meeting was a delegation from Sinn Fein which included Donegal councillors Gerry McMonagle and Gary Doherty.
Sinn Fein's Cllr. Matt Carthy said being from a border region, he knew the devastating impact such a charge will have if it goes through.
"However, today's meeting was an opportunity to hear at first hand the devastating impact this will have by the people whose livelihoods stand to be impacted immediately.
"Areas like Donegal will be particularly affected by this regressive measure but this will have the potential to cost jobs across the state and will certainly damage the development of the all-Ireland economy.
"This levy will penalise already hard-pressed small and medium businesses. The high price of fuel coupled with this new charge will negatively impact on businesses that utilise haulage firms. Inevitably the costs would eventually come back to hit the average consumer.
"The levy has the potential to separate the northern economy from the rest of the island, at a time when the emphasis should be placed upon building island wide trade which generates £2.3 billion for both economies on the island. Increasing barriers to trade will harm both economies.
"Sinn Féin have been vocal in our opposition to this move and our representatives, north and south have been to the forefront in highlighting the issue at every elected forum.
"The British government needs to amend the legislation to exempt the north from this regressive charge. The Fine Gael government must ensure that they pressurise their British counterparts to stop this charge which has the potential to severely affect the future viability of small and medium businesses especially along the already struggling border region."
Tags: