Buncrana GAA Notes for Week Ending Sunday 9th March 2014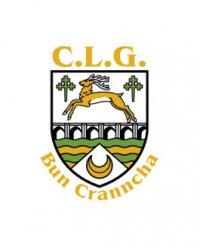 Thosaigh Seachtain na Gaeilge ar an chéad lá mí Márta agus leanfaidh sé ar aghaidh go dtí Lá Fhéile Pádraig. The Club will be hosting various activities to promote the Irish language during this time and asks you to support these efforts. We have started a daily Irish phrases and sayings section on Facebook so check that out. Also check out our Facebook page for details on our great Comórtas Ghrianghraf le duaiseanna (Photography Competiton with prizes).
Imeachtaí fá Choinne Seachtain na Gaeilge (Events for Seachtain na Gaeilge)
Céad teacht le chéile don Chiorcal Comhrá Dé Céadaoin 12ú Márta ag a 8 i.n. FÁILTE ROIMH ACHAN DUINE. Na bí buartha faoi do chuid Gaeilge, tar isteach agus labhair í!
First meeting of Irish Conversation Group on Wed 12th March at 8 pm. Everyone welcome. Don't be worried about your amount of Irish, come in and speak it!
Beidh an grúpa Scór na nÓg ag cur i láthair a ndráma sa Teach Altranais Dé hAoine 14ú Márta ag a 2 a chlog
Scór na nÓg group will be performing their drama in the Nursing Unit on Friday 14th at 2 pm
Ba choir go mbeadh na hiarratais don chomórtas ghrianghraf istigh idir a 6-8 a chlog i.n. Dé hAoine 14ú sa clubtheach
Entries for photo competition should be in between 6- 8pm on Friday 14th in the Clubhouse
Lá 'le Padraig sa Clubtheach!! (St Patricks Day in the Clubhouse!!)
Beidh ceoltóírí, scoileanna rince, bia agus deochanna ar fáil,
There will be musicians, schools of dance, food and drink available.
Fáilte roimh achan duine
Everybody welcome
Cead isteach ar Lá Fhéile Pádraig – saor in aisce
Entry on St Patricks Day is free..free…free!
Beidh craic agus ceol don teaghlach uilig!
Music and fun for all the family!
Ba chóir duine ar bith atá ag iarraidh cabhrú ar bhealach ar bith teagmháil le Deirdre nó mé féin. Go raibh maith agat…agus bain usaid as do chuid Gaeilge!
Comhgairdeas aris do Darrach O'Connor. Bhí sé ag imirt don fhoireann chontae i gcoinne na Mí agus d'imir sé go hana mhaith!
Seniors, Minors, Under 21's and Reserves Hurling & Football training this week, Wednesday 7.30pm and Friday 7.30pm. All players are urged to make every effort to attend.
Senior Ladies training every Wednesday at 7.30 in Buncrana Youth Club. New members always welcome.
Under Age Training
U6 Football 6.30-7.30pm Friday Crana College
U8 Football 4-5pm Saturday Buncrana Youth Club
U8 Hurling 5-6pm Saturday Buncrana Youth Club
U10 Football 6-7pm Friday Buncrana Youth Club
U10/U12 Hurling 7-8pm Wednesday Crana College
U12 Football 7-8pm Monday & Friday Scarvey
U14 Football 7-8.30pm Tuesday & Friday Scarvey
U14 Hurling 7-8.30pm Tuesday & Thursday Scarvey
U12/U14/U16 Girls Football 7-8pm Mondays Scarvey
U14 B lost to Muff on a windy Saturday. Very proud of them all as they battled a full Muff team to the very end and gave it their all.
Next match U14 A team play LK Gaels on Monday in the Scarvey at 6.
Next weekend U14 A team vs St Eunans on Saturday @ 12 and
U14 B away to Carn on Sunday @ 12
Parish League continues – League standing and fixtures on Club Og Facebook.
Level 1 Coaching Course in the Scarvey 7-10.30pm Friday 14th March and 9-4.30 pm Saturday 15th.
U18 Newton Vs Buncrana 12 pm
Membership registration Please note if you or your child is a player/coach you must pay membership for insurance purposes. If you wish to be considered for ticket allocation for the All Ireland series of matches your membership must be paid by 25th March.
NB:- Membership does not guarantee match tickets and only adult members can be considered for ticket allocation. Please see our Facebook page, Website and notices in The Clubhouse for membership fees, or contact secretary.buncrana.donegal@gaa.ie if you have any further queries or contact Claire (0863340965) or Grainne (0864650200).
Branded Gloves Elizabeth Anne has ordered Buncrana branded gloves. She wants to remind all managers to inform their player's parents of this fact and that she is taking orders for them now. They should be available in 2 weeks, various sizes.
Please contact Elizabeth Anne on 0860604075 to place orders or ask any questions.
Club Notes: Anyone who would like to receive a copy of the weekly club notes should email Jim at buncrana.pro@gmail.com to be included on the mailing list. If you have any items which you think should be included in the club's weekly notes, please email Jim at buncrana.pro@gmail.com by 6pm on each Sunday for consideration. To keep up to date with all the latest goings-on, please join us on www.facebook.com/buncranagaa or www.twitter.com/buncranagaa @buncranagaa, or visit our website www.buncranagaa.com.
Tags: