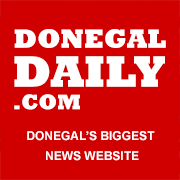 COMMUNITY ALERT: From a reader in St Johnston: At 1:15 p.m. today (Friday) in St. Johnston area, a young fellow (late 20s-early 30s, slim, brown hair, freckles) called to the door looking to paint the house and then, when told not interested, looking to sell cans of paint.
After being told 'no' again he headed off to a small gray hatch-back car that was parked at the end of the driveway headed to Letterkenny.
I started following him in order to get the registration and saw an older male driver behind the wheel who, as soon as the young fellow had joined him, sped away so quickly that I only had time to see that the reg was Northern.
Tags: