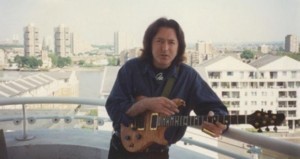 A fan of Donegal guitarist Rory Gallagher has spent €30,000 to buy his hero's guitar – and bring it back to Ireland.
Co Antrim man Peter Drayne is a regular at the Rory Gallagher festival in Ballyshannon and followed the musician and saw him play in the 70s in Dublin and Belfast.
And when Gallagher's famous custom-made JS Berlin Legend guitar went under the hammer at an auction in England, Peter frantically called the auction house to make sure he was able to bid on it.
"I had to bring it (the guitar) back to Ireland," said Peter.
"I used to see Rory in the Ulster Hall and then I started making this annual pilgrimage down to the National Stadium in Dublin in January every year to see him- he was just such an amazing performer and I'm so pleased to be able bring the guitar back to Ireland.
"I think guitars like this need to be preserved but they also need to be played and I'm hoping the guitar will be used on a regular basis," said the owner of MITA records.
He found out about the auction just beforehand. Bidding started at €23,000 and Peter paid €30,370 for it.
Gallagher, who died in 1995 aged 47, had the guitar made three years before his death. It has the initials 'RG' on the 12th fret.
With a bit of luck, we might see Peter – and his new guitar – at this year's festival.
Tags: