The Relay for Life Donegal 2014 committee will host a "PEOPLE UNDER THE HAMMER AUCTION" at Arena 7, Letterkenny at 8:30 pm on Friday the 9th May 2014.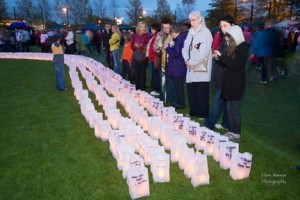 Lots up for auction include wedding services, entertainment services, bouncy castle services, horse riding lessons and dance tutoring to name a few. Admission is free of charge however donations can be made if wished. Entertainment will be provided.
According to Una Black, Head of Corporate Relationships, "the committee are in a position to host this auction as a result of the tremendous generosity shown by Enda Nicholls, who has made the venue available to the Relay for Life Donegal committee and because of the great kindness conveyed by all the businesses and individuals who have offered items and services to be auctioned.
"On behalf of the committee, I also wish to take this opportunity to thank Boyd Robinson, who will facilitate the auction and The Duke's who will provide the entertainment."
Siobhan Diver, Marketing Manager of Relay for Life Donegal 2014 says it promises to be a great night.
"It promises to be an entertaining and eventful evening. All proceeds raised from the fundraiser will help the Irish Cancer Society fund vital cancer services in Donegal, as will the proceeds from the Relay for Life Donegal 2014 event being held on the 31/5/14 – 1/6/14 at LYIT."
Siobhan also highlights that "to reiterate what Shay Given, former Irish goalkeeping legend has said, if you feel you have at least one reason to Relay, make the commitment today and contact Nicola Mc Bride or any committee member in order to get registered. With so many people being diagnosed with cancer in Donegal, it is essential to have funding in place that will ensure delivery of key services when required."
Last year Relay for Life Donegal raised a staggering €320,728 for research. In addition, €328,225 was spent by The Irish Cancer Society on cancer services in Donegal. Without assistance The Irish Cancer Society would find it impossible to provide vital services; such as care to drive, nursing services, financial aid, helpline calls, counselling, survivors supporting survivors, youth programmes, cancer support centres, booklets and leaflets, etc.
To register a team "please call Nicola on 086 8880399 or email nicolamcbride@ymail.com, email relayforlifedonegalapplications@yahoo.com, or contact any committee member".
Tags: