A fisherman was rescued off the coast of Donegal this afternoon after a farmer heard his cry for help a half a mile out to sea.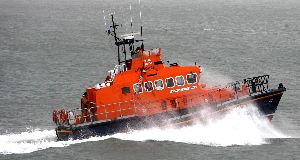 John Grant was tending to his sheep at Tullagh Bay on the coast of the Inishowen Peninsula.
Mr Grant suddenly heard a cry for help and noticed a spec in the distance and realised it was a person hanging onto a buoy.
Mr Grant contacted his mother and she alerted Malin Head Coastguard at around 1.50pm.
They alerted the Lough Swilly RNLI lifeboat.
The rescue 118 helicopter from Sligo was also scrambled to the scene as was the Greencastle Coast Guard boat, which was later stood down.
Weather conditions at the time of the rescue were calm but it was raining heavily.
When the Lough Swilly lifeboat arrived on scene, a local boat had already picked up the man.
The man, a local lobster fisherman in his 40s, was wrapped in blankets and given attention.
A medic from the 118 helicopter was dropped at the scene and a decision was made to take the man to the shore near Clonmany by boat.
Once on shore the helicopter flew the man to Altnagelvin Hospital in Derry where he is understood to be in a stable condition.
A spokesman for the Lough Swilly RNLI Lifeboat praised the actions of Mr Grant saying his actions sparked a very successful rescue.
"It was simply amazing how John heard the man's cry for help so far out to sea but thankfully he did.
"The phonecall by Mr Grant's mother set into action a chain of events which undoubtedly saved this man's life," he said.
Tags: