Local election candidate John Watson questions whether people receiving a bad quality water service should be liable to pay the new water charges.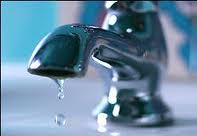 The Fianna Fail candidate says he is totally against these water charges, but like most people he must accept they are here for the foreseeable future.
"I have visited many homes over the past six weeks where I have found the water quality to below an acceptable standard. In some instances the water is discoloured, in other cases the water smells and in a lot of cases I found the water is causing major damage to domestic appliances.
"Homes connected to the borehole supply from Rockhill outside Letterkenny are especially effected. Most homeowners on this supply will not drink the water, with many buying bottled water for drinking," he revealed.
In one case he visited the home of a woman in the Lismonaghan area of the town, she informed him that she had the water tested and was told it was not fit for consumption.
This women has since spent €2000 on a new filter system for her home.
"How is it fair to now ask this women to pay €240 per year in water charges," asked Mr Watson.
At another home he was poured a glass of water, there appeared to be an oily film floating on top of the water.
"I was shown kettles that has been destroyed by this oily substance.
"I have spoken to a local solicitor who informed me that there may be a case for not paying the water charges if the supply is not up to standard.
"Under consumer protection legislation goods must be up to merchantable quality and fit for purpose if you are to pay for them.
"I believe the water from the borehole supply and is substandard and not fit for purpose. I say that people should not be charged until the supply is brought up to a decent standard.
"If elected on this Friday I will take this fight to Irish Water on behalf of all residents who are not receiving a top quality water supply."
Tags: