Independent Councillor Frank McBrearty, has today (Wednesday) said that promoting positive mental health in the county must be one of the priorities for the next elected members of Donegal County Council.  
McBrearty told Donegal Daily, "Irrespective of the make-up of the next council, I am calling on all newly elected Councillors to pledge to do all they can to ensure that positive mental health becomes a key issue for the Council.
Speaking of the work which he has done to encourage positive mental health in the County, Cllr McBrearty said that breaking the silence around mental health as well challenging the stigma and discrimination which surrounds the issue was something which he prioritised during his year as Mayor – an issue which he feels very passionate about.
McBrearty added, "The office of Mayor enabled me to highlight issues pertaining to mental health and well-being.
"I've always been very vocal and passionate about this issue as mental health is something which can, and does affect everyone at some point in their life.
"When I was Mayor of Donegal I used the office to promote positive mental health, drawing attention particularly to the strong link between physical activity and the beneficial impact it can have to encourage positive mental well-being.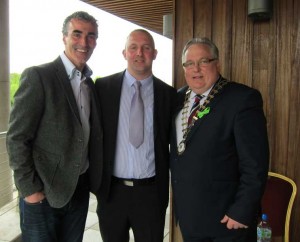 It was while Mayor of the County that Cllr McBrearty officially launched the National Conference on Sport aiding Mental Health (SAM), a national conversation concerning mental health, which aimed toincrease awareness of issues relating to mental health and strived to educate people as to how best to support those who sufferfrom mentalillness.
McBrearty continued, "There is no health without mental health, and speaking as someone who has personally experienced the negative effects of poor mental health.
"I am very much aware of its impact and I understand just how vital reinforcing the message of positive mental health is to our community.
"During my tenure as Mayor,I was delighted with the positive response that SAM received from the various organisations, groups and individuals involved in the campaign.
McBrearty concluded, "Everyone has a role to play in promoting mental health awareness, and I feel that local authorities have a responsibility to promote this issue and make positive mental health a key theme as part of their activities.
"Should I be successful in my bid to get re-elected to Donegal County Council following the elections this Friday, I vow to make the promotion of positive mental health a priority in Council discussions.
Tags: