Popular South Donegal Election candidate John McNulty is calling on everyone to get out and use their vote this Friday in the Local and European Elections.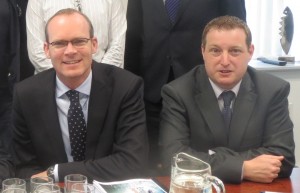 McNulty said, "If people in Donegal want change and want fresh thinking and strong representation in Donegal County Council, then I encourage them to use their democratic vote wisely.
McNulty who is on the Fine Gael ticket in the Donegal Electoral Area, which has 6 council seats up for grabs, faces stiff competition from sitting Councillor Brendan Byrne (FF) and new Independent CandidateNiamh Kennedy for an 'in-through' seat.
He has been very visible on the canvass trail in South Donegal and knows the lie of the political landscape.
McNulty told Donegal Daily, "Of course I am asking everyone I canvass for the number No.1 vote, but I respect that some of the public are voting for the local candidate in their own town, and I am asking them to give me their highest preference possible.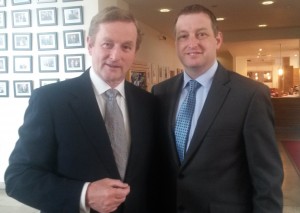 McNulty's passion for success is very palpable in conversation, and whispers from the South West are saying that an upset could be on the cards, putting further heat on current sitting councillors.
McNulty, who lives in Kilcar and who has a Mace Store in Stranorlar is well known in GAA and Soccer communities,and has put in some strong debate performances recently on Ocean FM and SWDCR FM and competed well against seasoned sitting councillors.
Throughout his campaign he has been very vocal about the future development of KIllybegs as a "Recovery Hub"for south Donegal and has had constructive conversations with Minister Simon Coveney and the Killybegs Fisherman's Organisation about what could be done to diversify local industry, and create more jobs.
Whilst on the canvass trail McNulty has met local farmers who are looking a change in the Farm Inspection process.
McNulty added, "I am fully supporting farmers and the Donegal IFA , whom I have met, in attaining a "Farmer's Charter of Rights".
"Currently when farmers are inspected, any discrepancies in herd number or stock, can mean an immediate effect on farm payments.
"I will lobby and advocate that farmers are given a specific timeframe to get any discrepancies resolved, which is a fairer system, and would be more in line with other Irish statutory inspections.
McNulty has also highlighted SliabhLiag which is a signature point on the Wild Atlantic Way as a priority for him to work on with the local tourism committees if elected.
He also highlighted the urgent works required at the beautiful Silver Strand beach in Malinbeg, which has major safety concerns for locals and visiting tourists.
McNulty concluded, "Any Donegal County Councillor should be approachable, available and dependable for their people in Donegal, and if elected, I will put my heart and soul into working for the people of South Donegal from Glencolmcille to Bundoran.
Tags: