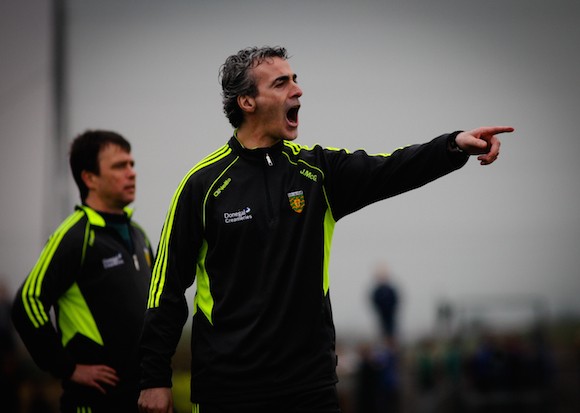 BY CATHAL MacSUIBHNE: So let's be honest, how many of us went to the Bogside today with quite a bit of doubt in the back of our minds? All we've read of late is of a Donegal team in crisis and conversely a Derry team on the up and ready to have a real tilt at an Ulster title. This match represented as big a test as Donegal have faced in the McGuinness era but yet again when it mattered, when Championship football was put in front of his men, they delivered.
A triumph of management skill and coaching was what we saw in Celtic Park as McGuinness carefully constructed a match winning performance with astute switches, well-timed substitutions and above all an efficient use of resources. He took a calculated risk in opting to start with a more inexperienced fifteen before adapting to a more settled side in the second half but it proved to be a masterstroke.
Midfield was always going to be the key sector – with Rory Kavanagh suspended and Neil Gallagher struggling for full fitness, whoever came up against the Derry powerhouses of Patsy Bradley and Fergal Doherty were going to have their work cut out. Christy Toye and Odhran MacNiallais were initially assigned the centrefield roles, with plenty of support being provided by the roaming Michael Murphy in the first half.
The primary difference in actual play between league and championship is in the physical stakes and this was illustrated early on – Paddy McGrath, Murphy and Leo McLoone all put in shuddering hits on their opponents during the first half, with McLoone's particularly vital as he stopped a Derry attack from getting in behind the Donegal cover. Thankfully, even with the introduction of the black card and the fear that it would bring a decline in this facet of the game, there was some good old-fashioned shoulders going in from both sides today and the game was better for it.
McGrath was a late inclusion and despite the lack of any game-time for his county this year he seamlessly slotted into his customary corner back position and played a blinder. A feature of the Donegal defenders today, led by the Ardara man, was in how well they shepherded on-coming attackers wide and away from goal. Instead of putting in a tackle and risk giving away the free they forced the Oakleaf forwards out to the wings, thus making them turn back for help and recycle possession.
It was tight and tense in the early stages and Donegal were holding their own. Derry kicked on in the second quarter and despite seeing the influential Doherty go off injured they put some daylight between the teams but the visitors managed to stay within striking distance at the break, only two points back.
Jim was very clever in his use of the Creeslough pairing of Toye and Martin McElhinney; the former was Donegal's most dangerous player in the first half and he had been instructed to empty the tank in that opening period. At the short whistle, McElhinney took up the baton and, buzzing with energy and running, he produced a carbon copy all action cameo, capping it off with a lung bursting score late in the game.
The changes at the break, which also included the introduction of Neil Gallagher, allowed Michael to spend more time in front of the Derry goal and the Maestro was immense. Derry full-back Chrissy McKaigue had a wonderful league campaign and the battle between these two was well flagged before the game – it was a battle that Murphy won hands down. Interestingly alongside McKaigue was Gareth McKinless, who carried out an excellent man marking job on Murphy in the Ulster club final last December but on today's form nobody could have held the big man. The ball going into him from out the field had a lot to do with his performance so credit must go to the likes of Anthony Thompson and Frank McGlynn for finding their captain so often.
In the early part of the second half, just as they did so often during their All-Ireland run, Donegal blitzed their opponents and Murphy had his fingerprints over all of the scores during this period. His gorgeous dummy to fool McKaigue allowed him to launch a skyscraper to split Thomas Mallon's posts while he was also involved in Leo McLoone's goal when he set McGlynn on his way into enemy territory.
He saved his best until a few minutes later when Donegal were awarded a line ball on the 45', close to where the Donegal management team were standing. It was a lovely moment for supporters on that side of the pitch as we got a close up view of the action as McGuinness walked up to his commander and uttered the words 'put it over the bar'; mere mortals wouldn't dream of attempting such an audacious effort but Michael did as he was asked and dispatched a monster of a point, registering as good a score as you're ever likely to see.
Leo's goal was always going to be crucial in such a close encounter but just as critical was what transpired in front of the Donegal goal moments later. A flowing move up the field ended with wing back Kevin Johnston one on one with Paul Durcan but just as he pulled the trigger Neil McGee appeared out of nowhere to produce a fantastic block and keep his side's hard fought lead intact.
McGee's clubmate MacNiallais put in an accomplished performance around the middle third and can be delighted with his championship debut. Likewise Darach O'Connor, who used his pace to great effect to open his side's scoring account and he was a real danger throughout his time on the field.
As is usually the case, Donegal sat on their lead somewhat and made things a bit more nerve-wracking for the supporters than maybe it needed to be, as the home side ate into the lead bit by bit. Durcan's role was crucial though and when he really needed to, he was able to find his men with his pinpoint kick outs; one miscue apart Papa provided the platform for his team all day and all the different strategies that were worked on during the league came to fruition today.
In the end it was the goal that separated the teams and the man who scored it, McLoone, walked away with the RTE man of the match gong. His finish for the goal was sublime and it shows the worth of a player being comfortable on both feet. McLoone's last big goal for Donegal came in the 2012 Ulster Final, when he finished wonderfully with his right foot past Down's Brendan McVeigh – he also got the insurance point today off his left but we've seen on numerous occasions that either foot is fine for the Glenties man.
So in spite of all the prophets of doom that have spoken in the build up to the game (Colm O'Rourke was especially dismissive in his newspaper column this morning), it seems as though reports of our demise have been greatly exaggerated. The aftermath of the League final and the supposed clues it offered on the state of the team needed to be looked at in a bit of context. Seven weeks prior to that final, Donegal dismantled Monaghan in O'Donnell Park and on that evening they sat at the summit of the league table with maximum points. At that stage McGuinness' men needed four points from the remaining eight to ensure promotion. One eye was already on May 25th at that point in time but after a big victory against one of the better sides in the division, their gaze completely switched to championship and preparing for the challenge of Derry.
With all the talk of the supposed shallowness of the Donegal panel, the team now goes into an Ulster semi-final on the back of an outstanding display and with Rory Kavanagh, David Walsh, Big Neil and Martin McElhinney trying to force their way into the starting line-up. That competition will be very healthy for the squad and management as they face into their last four clash with either Fermanagh or Antrim. Regardless of who they play, Donegal will be overwhelming favourites but they have to go about their business in the right way and with lads battling for starting spots, that should be a given. May 25th is done and dusted, now it's all about June 22nd.
Tags: