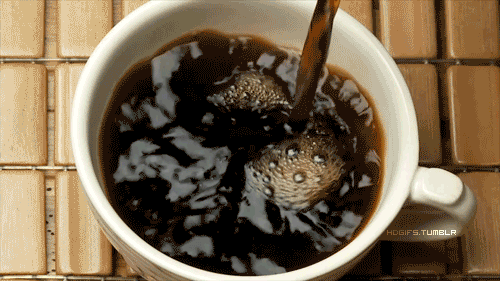 "It is inhumane, in my opinion, to force people who have a genuine medical need for coffee to wait in line behind people who apparently view it as some kind of recreational activity."
Dave Barry
For any of you who don't know me, some would say that I have a slight addiction to the rich, dark, silky smooth, fantastical beverage that is coffee. (Too much?)
I still find it hard to believe that there are some who don't drink coffee and even don't like the taste, because what's not to like?
Coffee has recently been found to have an array of health benefits.
"I don't really like coffee, she said, but I don't really like it when my head hits my desk when I fall asleep either. "
Brian Andrea
Coffee Can Improve Energy Levels and Make You Smarter:
Coffee can help people feel less tired and increase energy levels
This is because it contains a stimulant called caffeine, which is actually the most commonly consumed stimulant in the world.
Many studies show that coffee improves various aspects of brain function.
This includes memory, mood, vigilance, energy levels and reaction times.
A source of anti-oxidants:
Fruit and vegetables are both excellent sources of anti-oxidants for the human body, but coffee has been found to have the highest levels readily available for us.
While many fruits and vegetables are loaded with anti-oxidants it is the body's ability to absorb these that is more important and we seem to be able to absorb the most from coffee.
Coffee can help you to burn fat:
Caffeine is found in almost every fat-burning supplement and with good reason.
Caffeine is one of the few natural substances that have actually been proven to aid fat burning.
Caffeine has been shown to boost the metabolic rate by 3-11%.
Caffeine can also increase the burning of fat, by as much as 10% in obese individuals and 29% in lean people.
However, these benefits can decrease for people who consume coffee daily.
Also it should be noted that for someone who is naturally thin and is trying to gain weight, stimulants such as caffeine are best avoided as you do not need your metabolism boosted.
"I decide to turn to my old faithful solution to all that is wrong in life. Coffee."
Lisa Renee Jones
Coffee could reduce your chances of getting skin cancer (if you're a woman).
A 20 year study of over 100, 000 men and women found that women who drank 3 or more cups of coffee per day were less likely to develop skin cancer than those who don't.
Coffee could reduce your risk of developing Type 2 diabetes.
Coffee also lowers risk of Type 2 diabetes.
Researchers found that people who drink four or more cups of coffee a day reduce their chances of developing Type 2 diabetes by 50 percent.
Subsequently, with every additional cup, the risk gets lowered by 7 percent.
Coffee can improve athletic and physical performance.
The New York Times reports: "Scientists and many athletes have known for years, of course, that a cup of coffee before a workout jolts athletic performance, especially in endurance sports like distance running and cycling."
Caffeine increases the number of fatty acids in the bloodstream, which allows athletes' muscles to absorb and burn those fats for fuel, therefore saving the body's small reserves of carbohydrates for later on in the exercise.
Drink a cup of coffee half an hour before your training session, and see the difference.
Other benefit of coffee range from lowering the risk of Prostate Cancer, Parkinson's disease and Alzheimer's.
It has been shown to have a positive effect on the liver can help with depression and can even lower the risk of stroke.
Whether you like coffee or not, you simply cannot ignore the array of health benefits that it has.
#TrainSmart

Tags: