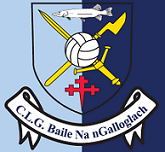 Milford GAA Notes
*Senior Ladies win in Senior Championship*
CLG BnaG 3-14 St Eunans 3-8
Well done to our ladies who had a brilliant win against a very strong St Eunans team in the Preliminary round of the Senior Ladies Championship on Sunday.
They dominated the match from the start but ended up 4 points down at half time due to conceding 3 sloppy goals. They regrouped at half time and came out with all guns blazing and were on level terms within five minutes of the restart. The girls kicked on from here and finished up winning 3.14 to 3.8. This was an excellent team performance and a great debut in the Senior Championship and gives the girls the belief and confidence that they can compete at this level. Scorers: Amber Barrett (1-11), Donna Martin (1-1), Lianne Boyce (1-1), Roisin Boyce (0-1).
*Seniors*
Naomh Columba 2-10 CLG BnaG 1-11
Our Seniors were on the wrong end of a 2 point defeat on Sunday past as they went down to Naomh Columba in Glencolombcille. They lost Pauric Curley to a suspect black card in the first half while Cathal McGettigan got his marching orders after two yellow cards which didn't help the cause. The lads now have 3 games left with Naomh Brid and Naomh Colmcille away, and Carndonagh at home. Team: Sean Gallagher, Cormac Friel, Gearoid Horkan, Gavin Grier, Dean Burgess, Pauric Curley, TJ Evesson, Jonny Logue, Joey Cullen, Cathal McGettigan, Christopher Barrett, David Curley, Paddy Peoples, Christy McCafferty, Kane Barrett. Subs: Adam Serrinha for P. Curley, Kieran Sheridan, Ryan Ferry.
*Senior Ladies*
CLG BnaG v Moville
Moyle Park, Tonight @ 8pm
After a brilliant win over St Eunans in the Senior Championship Preliminary Round our Senior Ladies are out again tonight against Moville at home. Throw in is at 8pm and all support would be greatly appreciated. On Friday they will also have a 13-a-side home match against Glenfin, also at 8pm
*U14 Girls*
Hard luck to our U14 Girls who were defeated by Urris in the U14B Final in Killygordon last Friday. It was a great achievement to get to the final and the Club is very proud of all the players and management.
*U12s*
The U12s played at home to Sean MacCumhaills on Friday evening in the League Semi Final and had a very good win thanks to a good team performance, with Shane Black, Kyle Burns and Matthew McLaughlin in good form. The B Team also played MacCumhaills A Team which proved too strong for them.The U12s then traveled to Downings on Monday in the League Final and got beaten by a goal. In difficult conditions they struggled with the strong wind and found themselves 2 points down at half time and turning to play into the wind in the second half. They finished the game much the stronger but left themselves with a lot of work to do and were beaten by a goal in the end. There were great displays from Matthew McLaughlin and Darragh McFadden. The U12s are finished now but have the U13s starting shortly and they have plenty of football coming up.
*Training Schedules*
Seniors/Reserves/U21s/Minors: Mon (8.30pm @ Crossfit LK), Tuesday & Thursday (7pm @ Pitch)
Senior Ladies: (@ Pitch): Wednesday (7pm), Saturday (10am)
Minors: (@ Pitch) Wednesday (4.30pm)
G4M&O: (@ Pitch): Mondays (8pm)
U16s: (@ Pitch): Mondays (6.30pm), Wednesdays (6.30pm)
U14s: (@ Pitch): Tuesday (4.15pm), Friday (4.15pm)
U12s: (@ Pitch) Thursdays (6pm)
U12s (Mixed): (@ Pitch) Thursdays (6pm)
Gaelic4Girls: (@ Pitch) Fridays (6pm)
U10s: (@ Pitch): Fridays (7pm)
U8s: (@ Pitch): Fridays (6pm)
*Underage Coaching*
Anyone interested in getting involved in the coaching of underage teams are asked to contact Shaun Paul Barrett on 086-6052169
*2014 Membership*
Club membership will be soon due for the 2014 year. Please be aware that Donegal tickets will only be sourced for paid up members of the Club. The rates remain unchanged from 2013:
Family – €50
Senior – €20
U18 – €10
Alternatively you can subscribe to the Club Lotto Database. For €17 a month you will receive:
– Full Family membership
– Entered into every weekly Lotto draw
– Automatically in a Christmas Hamper Draw (For subscribers only)
– 11 free weeks entry into the lotto
For more information contact Joe McNulty on 086-8547114
*Lotto*
This weeks lotto numbers were 4-6-13-18. No jackpot winner, 2 match 3 winners win €35 each. Fergus Friel, The Lagg, and Edward Friel, The Lagg . Next weeks Jackpot is €1,080.
*Lotto Database*
Lotto database players are reminded that end of year payments are now due. Anyone wishing to join the lotto database in 2014 can download the standing order form from the Club website or contact Joe McNulty. The benefits of joining the database are:
– Full family membership for 2014 included
– Entered into every draw evey week
– Automatically in Christmas hamper draw (One for database members only)
– 11 weeks free entry to lotto draw
*Lucozade Sports Club Crusade*
Thank you to all who helped with this years bottle cap collection, your support was much appreciated and we would ask that everyone continues to collect their bottle caps for next years collection.
*Child Protection & ASAP Policies*
CLG BnaG Child Protection and Welfare Policy & Procedures and CLG BnaG Alcohol and Substance Abuse (ASAP) prevention Policy information sessions have been held for all members of the club executive and all those involved with underage teams. There will be further information sessions for underage members and their parents/guardians following the next registration in 2014. Please visit the 'downloads' section of our website (Milford.Donegal.gaa.ie) and view the policy for yourself. If anyone has any queries or concerns or comments please contact the club Children's Officer Marian McNulty at 086/8506405 or marian.mcnulty@lyit.ie
*Volunteers Needed for Sub-Committees*
CLG BnaG is currently in the process of creating Sub-Committees to help implement and achieve the targets of a 5 year plan. If you feel you can contribute to the running of the Club in any small way, either in time or in ideas, please contact MilfordDonegalGAA@gmail.com, 0863400082 or send a PM. The Sub-Committees are as follows:
Finance
Underage Games Development
Adult Games Development
Club Administration
Club Facilities
PR, Communication & Culture
*Lotto Sellers Required*
The Club is seeking lotto sellers in the Milford, Ramelton and Rathmullan areas. If you are interested contact Joe McNulty on 086-8547114
*Evolution Fitness*
All paid up club members will now be able to avail of a €10 discount on 3 month membership. Normal 3 month membership is €80 but will be available to members for €70. If interested contact Jack Duddy at Evolution Fitness beside the mart in Milford
*Contact Us*
For all information and queries contact MilfordDonegalGAA@Gmail.com, follow us on Twitter on @CLGBnaG, and on Facebook on www.facebook.com/clgbaile.nangalloglach or see our website www.milford.donegal.gaa.ie/
*Milford GAA Club Gear*
Club gear is now available to order. Anyone who has ordered club gear but yet received it are to contact either Aidan or Barry. The range of club gear includes Hoodies, Tracksuits tops, Windcheaters, hats, navy polo shirts, white polo shirts, and t-shirts. There is some lovely gear available at very reasonable prices and photos are available to view on the club Facebook page. Orders can be placed with Agnes Ryan on 086-8194751.
Tags: