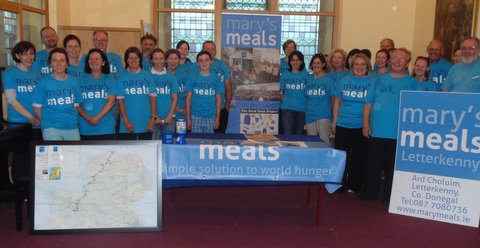 Some of the Mary's Meals walkers are pictured attending the 'Step by Step to Feed the Next Child' Sponsored Walk Meeting in the Conference Room in St Eunan's Cathedral on Tuesday night.
They are looking forward to the start of the Walk which will begin in Malin on Thursday 7th August at 8.30am and finish in Knock on Friday 15th August at 11:00am. The Sponsored Walk over 9 days will help raise awareness of the work of Mary's Meals and also some funds to help feed the next child waiting on Mary's Meals.
Mary's Meals is an international movement that sets up school feeding projects in communities where poverty and hunger prevent children from gaining an education. Mary's Meals is a simple idea that works – by providing a daily meal in a place of education, chronically poor children are attracted to the classroom where they can gain a basic education that provides an escape route from poverty. Over 800,000 children receive Mary's Meals every school day. The average cost to feed a child for a whole school year is €14.50.
Contact Details:
Marys Meals Support Group, Ard Choluim, Letterkenny, Co Donegal,
Phone 087 7080736,
Email: marysmealsletterkenny@outlook.com
Facebook: marysmealsletterkenny
Twitter:marysmealsLK
Tags: