BOMB ATTACK UPDATED: Friends of newly-elected county councillor John O'Donnell say he is in shock after a suspected pipe bomb was left outside his home on Downings overnight.
The well-known businessman was contacted by Gardai last night to say they had been told a device had been left at one of his premises.
A search of the area uncovered a pipe bomb device on top of a recreational vehicle parked at Councillor O'Donnell's home at the seaside village.
Speculation that another device was left otside a relative's home in Kilmacrennan has not yet been confirmed.
Donegal Daily now understand the Army Bomb Disposal team who had rushed to the scene of the Downings incident have now left.
It is not known if a device was made safe or if it has yet been removed.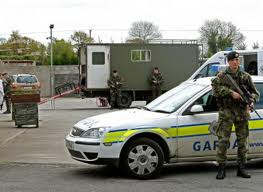 Donegal Daily tried to contact Councillor O'Donnell but he was not answering his phone.
A friend of Councillor O'Donnell said he is in shock.
John, a son of the late Cllr Eddie O'Donnell, ran a superb election campaign during his first outing on the political scene.
The friend said they didn't know if the device was live or if the attack was anything to do with his political work.
"John is a fairly relaxed guy and is trying to cope as best he can.
"But the reality is that it is the summer months and Downings is a very busy area.
"This is an attack on democracy and whoever put this here obviously doesn't care," he said.
Tags: