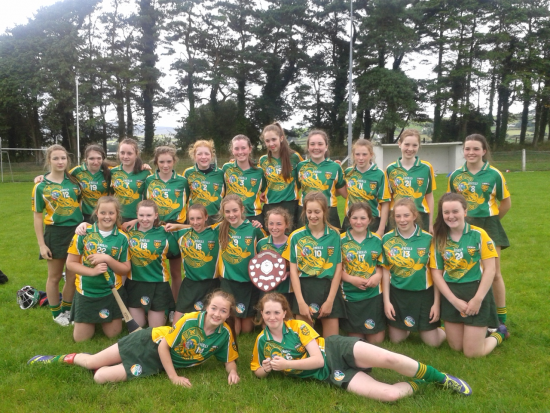 The Donegal U14 camogie squad travelled to Killeavy in Armagh to take part in the Ulster Camogie Blitz on Saturday 16th August.
Although missing some players on holiday, 22 players under manager Manus O'Donnell lined out in Section D of the blitz facing teams from Monaghan and Tyrone.
The girls started against Monaghan and quickly established a lead.
They stretched this lead in the second half and finished winners on a scoreline of 5.2 – 0.0.
Next up was Tyrone B and again with a strong team effort Donegal won 9.4 – 0.0.
This meant that the team faced Monaghan again in the final.
Monaghan put up a great battling performance in the first half but Donegal pushed on in the second and won the game on a score of 4.4 – 0.0.
The Eddie Murphy Shield was presented to Captain Rory Doherty, the first Ulster trophy won by Donegal camogs in almost 20 years.
All squad players did their very best on the day and combined effectively in taking their scores and holding a strong defence.
The skill level and commitment of the girls was a pleasure to watch and with 15 of the 22 players under 13, bodes well for the future.
The girls from Carndonagh, Burt, Letterkenny Gaels, St. Eunans and Four Masters clubs, have come together to train under the guidance of their manager and mentors and their efforts and progress was rewarded with an Ulster title.
The girls resume training now with an Ulster Shield semi final against Cavan coming up at the end of the month. Camogie in Donegal is on the up!
Tags: