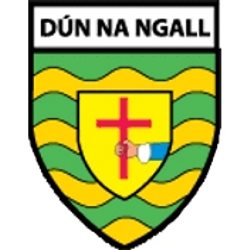 Junior B semi final
Saturday August 16, 2014
Donegal 3:12 Cork 0:03
Donegal will contest their second consecutive Junior B Boston championship final after a comprehensive win over Cork.
The result never looked in doubt as Donegal raced into an early lead as John Doogan found his range with a number of well taken points. An excellent move started by Mark Dunphy near the middle of the field found him on the end of a well worked move where he finished calmly to the Cork net. Mid way through the half Donegal also lost their captain Hugh Devine to a black card after a late challenge, Michael Steamer McBride stepped in and kept the Cork forward line at bay. At the half Donegal led by 2:05 to 0:01
Cork came out of the blocks quickest in the second half with two early points but Donegal soon stepped up a gear and it was one way traffic for the remainder of the second half. Donegal management soon emptied the bench and both Barry Boyle and Paul Anthony McDermott each chipped in with 2 points a piece. Top performers on the night for Donegal were John Deery, Luke Peden, Mark Dunphy, Ronan Shovlin and John Doogan. Donegal now go to defend their title against Shannon Blues next Saturday night
Christopher Mclaughlin (Jecky) (Malin), Philip McCafferty (Fermanagh), John Deery (Malin), Hugh Devine (Lifford), Luke Peden (1.02) (St.Johns,Antrim), Mark Forde (St.Eunans), Mark Dunphy (1.00), Kieron McDevitt, Jason McDaid (Malin), John Doogan (0.05) (Downings), Ronan Shovlin (0.01) (Kilcar), Matthew Cutliffe (Buncrana), Christopher Rush (1.00)
Subs:all used Michael McBride (Downings), Seamus Sweeney (Convoy), Paul Anthony McDermott(0.02) (Malin), Barry Boyle (0.02) (Inch), Michael Caldwell (Buncrana), Conor Connolly (Castlederg, Tyrone) Managers: Matthew McDaid (Malin) & Seamus Walsh (Kerry)
By Jonathan Byrne, club PRO
Junior A semi Final
Sunday, August 17, 2014
Junior A Football Semi-Final: Donegal v Aidan McAnespies
Donegal 1-12 Aidan McAnespies 1-3
Donegal junior A team followed up the success of their B's from the night before with a very comfortable win to advance to the final next week. A controlled and dominant performance saw the northerners to a nine point win, and another step in the race for the Boston championship and a place at the North American Finals in two weeks.
Donegal went in the break with a comfortable six point lead. Having enjoyed the majority of possession and with the back line having dealt with most of the opponents forays forward, Donegal led from the get go. The first four scores came from Donegal boots. Darren Doherty, Ciaran McDevitt, and Pauric McLaughlin were the scorers. Steven Magill and Enda Hamill cut the lead in half with a point each, but from then on it was mostly Donegal. Christy McLaughlin at corner forward got going in the latter part of the opening period and added another three, while Aaron McKenna pointed for McAnespies before the break.
McAnespies tried to rally after the restart, however, came away with nothing from their first two attacks. Donegal on the other hand netted from Christy McLaughlin to add to their cushion. The Malin man took a pass from Brian Kelly and his low shot from the edge of the small square billowed the net. McLaughlin followed with a point and the Donegal lead hit double digits. Aaron McKenna had moved to corner forward and gave his side some hope with a well taken goal after gathering a high ball. Donegal looked in little danger of relinquishing their lead however, and maintained control for the remainder of the game. Barry Smith getting black carded did not help matters for McAnespies and the reserves were called up from the bench. As a light rain fell the game reached its inevitable conclusion, and a second final for Donegal next week.
Donegal's opponents in the final will be Cork who last contested a junior A final 11 years ago. Donegal just edged Cork in their league meeting and will need to be firing on all cylinders to repeat their last final win in 2012. Donegal will be hoping to bring back into the side Buncrana man Peter McLaughlin and Urris duo Sean Doherty (Tim) and Dean Kelly who all missed Sundays semi final win.
Donegal: Jonathan Byrne (Malin), Fergal Donnelly (Trillick, Tyrone), Declan McBride (Downings), Darren Doherty (Malin), Darren Green (Downings), Hugh Devine (Lifford), Tom Caldwell (Galway), Mark Dunphy, Ciaran McDevitt, Owen Grant (Naomh Muire), Pauric McLaughlin (Buncrana), Brian Kelly (Urris), Christopher McLaughlin (Malin) Sub: Paddy McLaughlin Wanish (Buncrana), Barry McGinley (St.Michaels), Matthew Cutliffe (Buncrana), Barney Friel (Urris), Mark Forde (St.Eunans), Christopher Rush, Luke Peden (St.Johns, Antrim) Manager: Gareth Ruddy (Carndonagh)
By Rory O'Donnell www.blogspot.Tharantrasnan.com
Senior Football semi Final
Sunday, August 17, 2014
Shannon Blues 1-13 Donegal 1-12
Shannon Blues squeaked past Donegal in the first of two wonderfully exciting senior football semi finals. The Blues opened a six point lead early in the second half only to see it disappear with less than five minutes to go, and Donegal lead by two. The Blues dragged themselves back to level the scores, and Darren Wallace put the winner over the bar after coming on as a second half substitute.
The initiative changed hands twice during the opening period. The Blues came out of the blocks fast and held a four points to one lead. Donegal eventually signaled that they were coming to grips with the Blues pace, and made several chances that ended up wide. Eventually the ball began to go between the posts for the Donegal men. Griffin, Boyle, McLaughlin, and Murray all tallied points. Donegal were in front this period, beating their opponents to what seemed like every ball, and looked like they were taking over. The Blues rallied towards the end of the half and pulled ahead before the break as the game ebbed and flowed. Sean O'Connor, Darragh Treacy and Niall Murphy opened up gaps in the Donegal defence, and points came from each of the three. At the break it was a one point Blues lead, 0-8 to 0-7.
The Blues got the second half off to a great start with three unanswered points, a great restart. Denis McElligott made the gap six points with a great individual goal to slide the ball into the corner of the net under the challenge of two Donegal defenders. Donegal introduced Simon McDonagh to the fray and the big midfielder made a huge difference after coming on. The Blues attacks were limited as the big Donegalman won 5 kickouts in a row. A penalty was awarded after a Donegal move cut open the Blues defence and McLaughlin was pulled down in the box. Griffin put it away expertly and there was just two points in it coming into the final sequence of the game.
Donegal continued to control the direction of traffic. Both scores that leveled the game came from McLaughlin; five minutes to go it was anybody's game. The Blues shortened up the kickouts to hit the wing backs. Donegal took a one point lead, but in a rare Blues attack, Sean O'Connor, whose effort when the chips were down was tremendous for the Blues, was pulled down by Matt Smyth while bearing down on goal. Smyth was shown the black card, a loss to the Donegal's midfield effort, and O'Connor leveled from the free. As the possibility of extra time approached the Blues had a last chance and Darren Wallace put the ball over the bar from 30 yards. Donegal had one last chance of their own to draw level, but in a turn of events from last week's quarter final game, Steven Griffin put the high pressure kick wide from a difficult angle. Blues delight as they advance to their second final in three years and Donegal are left to wonder of what could have been.
Donegal: Eamon McCarney (Fermanagh), Mark Canny (Carndonagh) Joey O'Connor (St. Rynaghs Offaly), Sean Doherty (Urris), Gavin Gallagher (MacCumhaills), Cahir Healy (Portlaoise Laois), Matthew Smyth (Killybegs), Ciaran Thompson (Naomh Conaill), Gary Clancy (Bundoran), Stephen Griffin (Naomh Naille) , Danial McLaughlin (St Michaels), Sean Boyle (Naomh Muire), Ryan Murray (St. Johns, Antrim) Subs: Colin McCarron (Dungloe), Simon McDonagh (St. Johns, Antrim), Christy Bell (Buncrana), Dean Matthews (Louth), Mark Dunphy, Ciaran McDevitt Managers: Paul Martin McDaid (Malin),Eamon Rush (Robert Emmets), Michael McGinty (MacCumhaills)
By Rory O'Donnell www.blogspot.tharantrasnan.com
Follow our Facebook page Donegal GFC Boston or on Twitter @donegalboston
Tags: