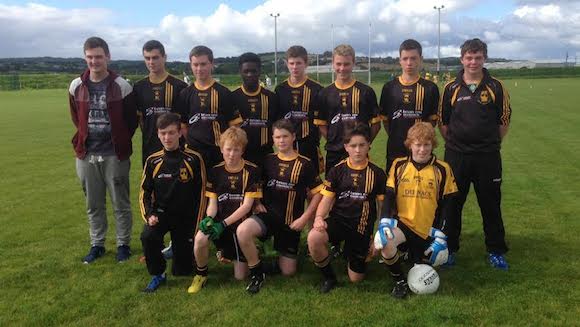 Reigning Ulster Óg Sport Gael (U15) Champions, St. Eunan's qualified for this year's Ulster finals when they defeated Kilcar in the County Finals hosted by Letterkenny Gaels on Saturday.
St. Eunan's were drawn in Group 1 with Buncrana and Ardara and Kilcar were in Group 2 with hosts Letterkenny Gaels and Seán MacCumhaills.
In their opening game the St. Eunan's lads defeated Buncrana by 5-05 to 0-02 before taking on Ardara who had also beaten the Inishowen men with the winner moving on to the final.
The Southern Area runners-up, Ardara took a narrow lead into the half-time break 0-05 to 0-04 before two second half goals from Matthew McGovern and Aaron Deeney opened up a lead for the Cathedral Town team and after some good defending and goalkeeping from Ronan McGeehin they kept Ardara from getting the goals they needed and ran out winners by 2-08 to 0-08.
In Group 2 Kilcar got the better of the hosting Gaels in their opening match and MacCumhaills then also beat the Gaels to set up a semi-final showdown with Kilcar. In a very close game that could have gone either way, the Kilcar men ran out 4 point winners and set up a final meeting with St. Eunan's.
St. Eunan's got a good start to the Final with an early Éoin McGeehin point before Jerome Atuahene and Donal Farren combined to set up Matthew McGovern for the game's opening goal. Another McGeehin point saw the Eunan's team turn around leading 1-02 to 0-01 with the Kilcar lads kicking a few wides that could have left the half-time score much closer.
Early in the second period Donal Farren and Ryan Hilferty combined to set up Matthew McGovern again and he rounded the Kilcar net minder to blast into an empty net for his second goal.
Moments later Aaron Deeney netted after a neat inter change with McGovern to put clear daylight between the sides and while Kilcar applied some pressure they found the Eunan's rear-guard in fine form with Deeney, Farren, Alex Tinney, Ryan Hilferty, Jerome Atuahene and goalkeeper Ronan McGeehin proving impossible to breach so they had to settle for a few points before Éoin McGeehin kicked the final score for St. Eunan's who won by 3-03 to 0-05.
St. Eunan's managed to go through their 3 games without conceding a single goal, a great achievement in 7-a-side football.
The St. Eunan's team will be hoping to emulate last year's squad that defeated Clann Eireann from Armagh in the Ulster final to take the title to Donegal for the first ever time. O'Donnell Park will host the Ulster Finals in just two weeks' time on Saturday, September 6th. The St. Eunan's squad was: Ronan McGeehin, Aaron Deeney, Donal Farren, Ryan Hilferty, Jerome Angel Atuahene, Éoin McGeehin, Matthew McGovern, Shaun Curran, Alex Tinney and Darragh Morrison.
Tags: