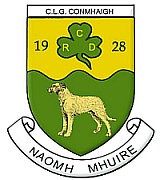 Convoy GAA Notes
Bingo Continues in Hall on Tues at 8.30 Club lotto result 2-9-14 DL,KK,WD WX 5 Matched 2 Rory O Donnell Jack Gillespie Mairead Mc Elchar,Margaret Mc Devitt and Daniel and Jason Mc Mullan Jackpot Nx Week €4050
Training for Senior Ladies on Wed at 7 and Fri at 7.30 Check FB for match updates
Gaelic for Mothers and Others wed at 8.15 new players always welcome .
Training on Friday for the under 12 girls from 6 to 7. Please bring €2 and gum shield.
Training for u 16 girls Mon from 6.30
Minor Girls are away to Annagry on Sat Morning check FB for Details.
Well as we all know Donegal Minor and Senior teams both won v Dublin on Sunday HUGE Congrats to all involved and are now in The All Ireland Final.
All these players start off playing with their WEE Club so now we are calling on your Support for OUR wee Club
The Airtricity Windmill Walk takes place on Sept 27th and we would like as MANY of our Members/Supporters possible to do the walk.
The more Walkers /Runners we have the more Money we will receive so if you feel up to the Challenge let any committee member Or Coach know
St Marys Ladies V Glenties
St Marys open the scoring with a point from Cathy De Ward and continue to dominate with scores from Fiona Denney, Erica Wilson Debroah Kerrigan and a Goal off the boot off Lydia Fowley to take a commanding lead of 1-05 to 00
Glentes point and again the St Marys Girls reply with points from Fiona Denney and Erica Wilson before Glenties point and also score a Goal 1-07 to 1-02
The St Marys Captain Fiona Deeney scores a point and then she scores a goal to bring the score at Half Time 2-08 to 1-02
Second Half
The Visitors continue to dominate with Lydia Fowley finding the back of the net and the glenties girl reply with a point.3-08 to 1-03
Once again Lydia Fowley is on the end of another Goal for st Marys and a oint from Victoria Kelly bring the score to 4-09 to 1-03
Glenties point but a well placed ball by Niamh Mailey brings goal number 5 for the St Marys girl to seal the Victory
Final Score 5-09 to 1-04
Scorers L.Fowley 3-0 F.Deeney 1-03 N.Mailey C.De Ward 0-2 E. Wilson 0-2 D.Kerrigan 0-1 V.Kelly 0-1
St Marys Men V Robert Emmets
St Marys travelled to Castlefin on Sat evening P.O.Leary opens the scoring for the Visitors 0-1 to 00 followed by A.Browne and R.Mc Namee 0-3 to 00
Castlefin reply with a Goal and the sides are level before P.O.Leary points again and Castlefin reply to keep the sides level 1-01 to 0-4
D.Bonner and P.O.Leary point to put St Marys 2 ahead with Castlefin replying to pull the game bk to a point 0-6 to 1-02
J.A.Kee points and St Marys go in 2 up at the break 0-7 to 1-02.
2nd Half
G.Sweeney points for St Marys to opening the scoring followed by a goal from M.Ayton as St Marys settle into the game.
St Marys continue to Dominate with scores from E.Patterson and M.Ayton before Castlefin reply with a point 1-10 to 1-03
Unanswered points off the boot of A.Browne and J.A.Kee see the Vistors stretch their lead to 1-13 to 1-03
Castlefin point and again St Marys reply with points from B.Bonner and J.A .Kee before Castlefin point again 1-15 to 1-04
B.Bonner and Gavin Sweeny point to secure the win for St Marys 1-17 to 1-05
Scorers M.Ayton 1-01 P.O.Leary 0-3 A.Browne 0-3 J.A.Kee 0-3 G.Sweeney 0-2 B.Bonner 0-2 E.Patterson 0-1 D.Bonner 0-1 R.Mc Namee
Guess The Score Sheet for All Ireland are being sold by the Club prize of €100.
Anyone who Sells their full sheet will be entered into a draw for a ticket for the All Ireland
So get selling
All money raised goes towards the upkeep of our club It Covers Pitch Maintenance ,Up Keep of Clubhouse and Grounds ,Cleaning of Jerseys , Physio ,Buses etc.
Tags: