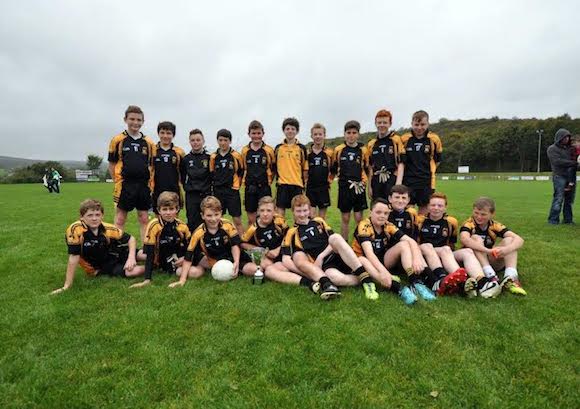 St. Eunan's Win Northern Division U-13 Final 2014
St. Eunan's: 1-13
Termon 0-15
The Northern Division U-13 Final played on Sunday last was won by St. Eunan's who defeated Termon in a keenly contested match on a score line of 1-13 to 0-15.
Played before a good crowd at Pairc Naomh Columba, Glenswilly, this closely contested 13-aside final had an abundance of football skills on display from both sides.
The Cathedral Town side was composed of players who won both County Go-Games titles in 2013; while the Termon team consisted of players from their 2013 Go-Games county finalists as well as players from their Go-Games county title sides of 2014.
So a match of quality was in store and the young players from both teams did not disappoint as a titanic match played with huge commitment ensued.
At half-time, following a high octane first half, a single point separated the sides with the advantage being to St. Eunan's.
However, they had it all to do in the second half as they faced into a strong breeze having being reduced to 12 men on 25 minutes. A decisive goal on 40 minutes by St. Eunan's player Pauric McGettigan who fielded a high ball and drove the ball to the roof of the Termon net just kept the Eunan's team ahead as Termon attempted a comeback with their numerical advantage.
The Eunan's defence succeeded in not conceding a goal and stood strong as the team showed a steely character in winning by the narrowest margin of one point to become Northern Board Champions 2014.
St. Eunan's scorers: Pauric McGettigan 1-2; Darragh Ellison 0-4; Peadar Devenney 0-2; Dylan Doogan 0-3; Shane O'Donnell 0-1; Oran Barrett-Winston 0-1.
Congratulating the winners; Northern Board Treasurer, Conor Mc Dermott commended both teams for the high standard of football on view before presenting the Cup to St. Eunan's captain Darragh Ellison. Both teams now progress to the County Semi-Final stage of the U-13 Championship. St. Eunan's will meet N. Conaill and Termon will take on Southern Board winners Killybegs this Saturday, Oct. 11th at 2pm with venues tbc.
Tags: