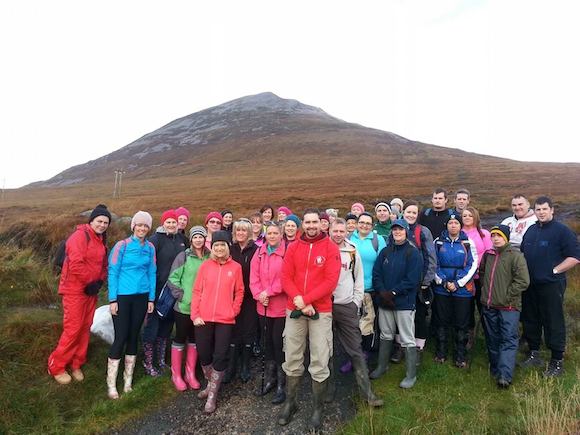 It was a training session with a difference when Donegal Daily's Health and Fitness columnist Emmet Rushe met with his Better Bodies challengers at the weekend.
Little did they know that by 11am on Saturday morning, they'd be taking selfies at the top of Mount Errigal.
The two Better Bodies groups, who train three evenings or three mornings each week, were challenged to join the Personal Trainer in climbing Mt Errigal on Saturday morning.
Although a few were nervous at the thought, 36 Better Bodies Challengers joined in the climb.
Emmet encouraged and supported the Challengers all the way to the summit with some overcoming nerves and a fear of heights.
Emmet, of Rushe Fitness, said: "There was laughter, there was pain and there were tears of disbelief and of course there were many, many photographs and selfies taken.
"The group members have made the decision to better themselves, their lifestyle and their health. For some, the aim and motivation is weight loss; for others, it's fitness.
"Everyone is on their own journey to achieve their Better Body and I thought that this challenge would show each of them just what you can achieve with the right motivation and support.
"To see both groups helping and encouraging each other yesterday, reminded me why I love my job. It was such an achievement for every single one of us."
What's next for the Better Bodies challengers?
"There are 3 weeks left for this course of the Better Bodies," said Emmet. "We'll be culminating this session with the Ultimate Survivor Series Mud-run on November 1st at The Old Foundry, Letterkenny."
The next Better Bodies challenges will begin on Monday November 3rd and Emmet has similar challenges planned.
Tags: