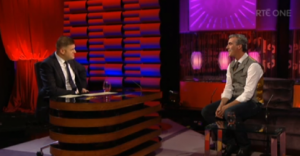 Jim McGuinness has revealed that he had his mind made up to step down as Donegal manager before the All-Ireland final with Kerry.
McGuinness gave his first interview since taking the decision to leave the Donegal job on RTE's The Saturday Night Show.
McGuinness spoke candidly to Brendan O'Connor about his decision to quit the Donegal job, and said the last five years was an incredible journey.
McGuinness remarkably revealed that he knew he would leave his role as Donegal manager before the All-Ireland final with Kerry, regardless of the outcome of the match.
However he did say that not winning the All-Ireland did make it slightly more difficult for him to walk away.
McGuinness told O'Connor, "I had my mind made up before the All-Ireland final, regardless of the result, we didn't get the ending we wanted, but it's been an incredible journey.
"I asked for a four-year term, because I thought that's how long it would take us to win the All-Ireland, but we won it in year two, and got to the final in year four.
"It's been one of the best experiences of my life, and it's been the most incredible journey.
McGuinness revealed the decision to leave was all the more difficult because of the bond he had developed with the players over the years, and spoke affectionately about the changes that occurred to the group during their journey.
"When I started out, I had one child, now I have five, where did I get the time to manage that, he joked.
"We've become so close, I've seen some players start college and come out at the end of that cycle, some players have got married, some have had children, it's been an amazing journey, and we've all become very close.
"All the training camps, all the overnight stays in hotels, the training, it's been intense, but we all gave it everything, absolutely everything for our county.
When asked about his decision to inform the group of his decision to step down via text, McGuinness said that's the way they operated.
"Donegal's a huge county, I wasn't going to drag players to a hotel, to tell them something so short, but it was emotional thing to do, when I sat down to send that group text to the players.
"I got texts back from the players, and there was some lovely words sent back, and that meant a lot.
"We were part of an amazing journey, all of us, together, and as I said we gave it everything.
McGuinness was the most successful manager in the history of Donegal GAA, landing three Ulster titles and one All-Ireland, and nearly winning a second All-Ireland crown last month.
The search for his successor continues, with his former assistant Rory Gallagher the hot favourite to land the job.
Tags: