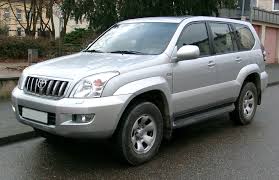 BREAKING NEWS: DONEGAL Gardaí have tonight issued a Community Alert after organised crime gangs targeted Jeep vehicles – particularly Toyota Land Cruiser Jeeps.
Sgt Paul Wallace says owners of jeeps in the County are urged to be vigilant in relation to the parking and securing of their jeeps overnight.
This warning comes after the theft of a number of Toyota Land cruiser jeeps in County Monaghan and along the border with Northern Ireland in recent nights.
"People in the community are urged to keep a sharp eye out for movement of vehicles late at night and early in the morning as well-organised criminal gangs are targeting Toyota jeeps in particular," he said.
Simple Precautions Sgt Wallace advises include:
Park in an area with good lighting or cctv cover which may deter the thief.
Ensure the keys are not easily accessed.
Installation of a tracking device in high end vehicles should be considered.
Report to Gardaí anything arousing your suspicion, movement of vehicles etc.
Get involved in your local Community / Text Alert,
Sgt Wallace continued: "Owners of jeeps /prestige cars should put them in the Garage over night if practicable.
"Place keys in a secure place, and consider fitting a tracking device. Always remove the keys each time you alight from the vehicle. Otherwise insurance cover may be compromised.
"Always remember no matter how valuable your car is or how cherished it is not worth personal injury to you or your family."
Sgt Wallace continued – ' We are aware of the targeting and theft of jeeps along the border in recent nights so we are urging the public to be vigilant and proactive. It is acknowledged that communities are playing their part by being more 'Crime Aware' and the taking of advise regarding door locking mechanisms, the installation and use of intruder alarm systems and prompt reporting to local Gardai of activities arousing suspicion.
"The revigouration and reorganisation of Community / Text Alert particularly in rural areas is to be welcomed in an effort to defeat the criminal. In the coming week meetings have been arranged for Monday Night 24th November at Burtonport Community Centre at 8pm & Wednesday 3rd of December at Ballyare Football Clubhouse at 7.30pm.
"Check your door locks review your security get your alarm / CCTV serviced and use it. Visit your local registered locksmith and educate yourself in the products available to beat the criminal – they do work'. Check on your elderly neighbours."
Garda Stations providing a 24/7 service are:
Letterkenny on 91-67100
Milford on 91-53060
Buncrana on 93 – 20540
Ballyshannon 071-98 51002.
Remember 999/112 in cases of emergency & www.garda.ie/crime prevention for further information.
Tags: