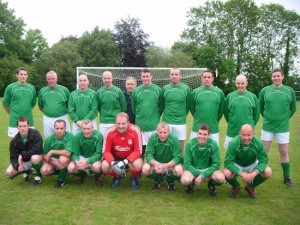 RAPHOE have lost their Linden Cup Final clash against Portadown after the match went to a sudden death penalty shoot-out.
Portadown goalkeeper Jaime Knipe was the hero as he made three crucial saves in the penalty shoot out which went to sudden death.
There was drama throughout the match which included two periods of extra time after the sides had finished level at 2-2 the after 70 minutes.
Portadown scored two quick goals – Stevie Johnston hit home in the 27th minute from a penalty corner before Adam Stevenson added a second a minute later.
However Raphoe stormed back Matthew Lecky hitting goals either side of half-time.
Raphoe had a man advantage after a Portadown player was sent off – but they then lost two players themselves to the sin ban.
The stage was set for the penalty shoot-out – and Portadown edged it.
Portadown: (from):Jamie Knipe; Gareth Titler; Dan McKimm; Stuart Kirkland; Zach McClelland; Adam Stevenson; Gregory Croft; Matty Beattie; Jamie Curran; Geoff Edgar; Peter Quaile; Stevie Johnston; Stuart Bell; Jonny Brown; Matty Winter.
Raphoe: (from):Jonathan Rankin; Rodney Bates; Alan Meehan; Matthew Lecky; Simon Gowdie; Lee Stewart; William Kilpatrick; Ian McGonigle; Jonathan Long; Ben Wallace; Kit Reegan; Alex Tinney; Keith Meehan; Paul Stewart; Stephen Cleverly; Lee Coll.
Tags: