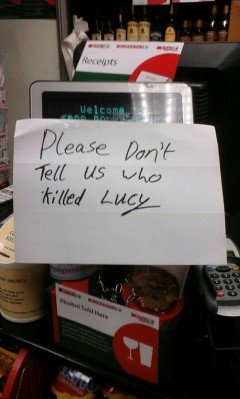 Two employees at a Spar shop in Ballyshannon pleaded with customers not to ruin the Lucy Beale murderer revelations by slapping a sign on the front counter.
Fans of the hit BBC One soap Eastenders have been gripped by the drama all week after a year-long saga finally revealed who killed Lucy.
To celebrate the 30th anniversary of the show, BBC executives have been screening live shows all week building up to the finale which revealed who Lucy's killer was last night.
However, those who had work during the show like the staff at the Spar shop in Ballyshannon didn't want the dramatic finale ruined for them so they made their intentions clear with the sign.
Both employees were getting the episodes recorded for them and planned to watch the show as soon as there shift finished.
We hope nobody ruined the finale for them!
Tags: