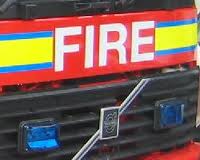 Donegal Fire Service currently has vacancies for Part-Time Retained Fire Fighters in the Killybegs and Donegal Town Brigades.
An application form and further information is available via the following link:
http://www.donegalcoco.ie/services/recruitment/retainedfirefighterskillybegsanddonegaltown/
Donegal Fire Service is a Retained Fire Service.
In a Retained Fire Service all fire-fighters are employed on a part time basis and turn out for incidents as and when required to do so.
Fire-fighters juggle their role as a fire-fighter with their normal daily routine.
Donegal Fire Service responds to approximately 1,000 emergency call-outs per annum shared out across the 15 Fire Brigades within the county.
These incidents range from fires, rescue from road traffic collisions, rescue from flooding and dealing with HazMat incidents to name but a few.
There are fifteen Fire Stations strategically located across county Donegal, from Carndonagh right down to Glencolmcille.
Most of these Stations are classified as Single-Pump Stations and have a crewing level of 9 personnel.
There are two larger Fire Stations in the higher populated towns of Letterkenny and Buncrana and they are classified as Two-Pump Stations; these stations have a crewing level of 15 personnel.
This means that there is a total staffing compliment of over 140 fire-fighters covering the county of Donegal.
The Fire Service is a Uniformed Service and there is a command structure in place.
There are three ranked personnel within each Fire Brigade – the Station Officer; the Sub-Station Officer and the Fire-fighter/Driver.
The rest of the crew members are designated as fire-fighters.
Each Fire Brigade is headed up by a Station Officer.
This is a person who has an extensive experience within the Fire Service and is the person in charge of the Brigade.
He/she controls the activities of the Fire Brigade during an incident, organises on-site training throughout the year and manages the Fire Station on a day-to-day basis.
The Station Officer is supported in his role by the Sub-Station Officer and he/she would fill in for the Station Officer when that person is on leave etc.
The next person in the command chain is the Fire-fighter/Driver.
This person is the designated driver of the Fire Appliance and he/she must make sure that the Appliance is ready to roll at a moments notice, that all the equipment on board is working correctly and he/she also operates the on-board main pump when attending at fire-related incidents.
Recruits to the Fire Service undergo intensive training before they are formally appointed.
This includes a 3-week Retained Recruit Fire-fighter Course, a 2-week Initial Breathing Apparatus Wearers Course and a 2½ day Compartment Fire Behaviour Course.
In addition to this initial training all fire-fighters take part in 6 hours of on-site training per month at their local Station.
This training takes place in the evenings, usually between 19.00hrs – 22.00hrs, and ensures that fire-fighters keep their skill sets up-to-date.
All fire-fighters also receive 4 weeks holidays each year, usually taken in blocks of one week, two weeks and one week.
Joining the Fire Service is not for everyone.
All fire-fighters carry a pager and once a 999 emergency call is made requesting the Fire Service the pagers of all fire-fighters from the appropriate Brigade go off.
This can happen any time of the day or night and on any day of the year.
Fire-fighters then have 5 minutes to get from their home or place of work, get into their protective fire kit, and leave the Station onboard the Fire Appliance.
This is why it is a strict condition of joining the Fire Service that the individual must live and work within 2.5kms from their local Station in order to ensure that personnel can muster at their Station in the allowable time.
The skills and attributes that are required in order to be selected as a Fire-fighter are that: the candidate must be of good character; be of good health and be physically fit; have attained a good level of education and be a good communicator.
In addition potential candidates must also have a head for heights; have good dexterity and not suffer from claustrophia.
If you think that this type of job would interest you and that you have the necessary skills and attributes mentioned above then we want to hear from you.
Tags: