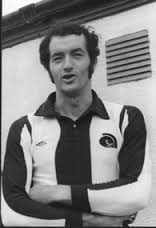 Former Finn Harps hero Brendan Bradley has been named as the Greatest ever Player to play in the League of Ireland.
The poll of the top 25 players was carried out by Liam Mackey of The Irish Examiner.
Bradley is a League of Ireland legend and scored an amazing 235 goals in the League.
That record still stands wand it's a record that looks unlikely to be ever beaten.
Jason Byrne has made a good attempt at it, but it looks like Bradley will remain the league's greatest goal-scorer.
Bradley helped Harps to their only FAI Cup success back in 1974 against St Patrick's Athletic.
He's a cult figure that is still revered by Finn Harps fans today and is still regularly seen attending matches at Finn Park.
Bradley beat off stiff competition in the poll from Al Finucane, Pat Byrne, Liam Coyle and Mick Leech.
The full list of 25 players is included below.
25. Paul Osam
24. Bob Fullam
23. Paddy Moore
22. Keith Fahey
21. Miah Dennehy
20. Turlough O'Connor
19. Jackie Jameson
18. Joseph Ndo
17. Patsy Freyne
16. Peter Thomas
15. Paddy Coad
14. Alfie Hale
13. Jason Byrne
12. Paul Doolin
11. Liam Tuohy
10. Wes Hoolahan
9. Tommy McConville
8. Frank O'Neil
7. Johnny Fullam
6. Paddy McCourt
5. Mick Leech
4. Liam Coyle
3. Pat Byrne
2. Al Finucane
1. BRENDAN BRADLEY
Tags: