Managerless Cobh Ramblers are the visitors to Finn Park on Friday evening as Finn Harps hope to extend their unbeaten league start to the season to four games.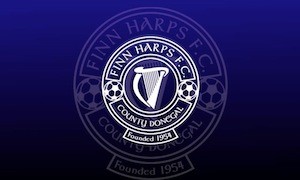 Cobh, shocked by the resignation of manager Martin Cambridge so early in the season after last Saturday's 4-1 defeat against Wexford Youths, will arrive at Finn Park having suffered defeats in each of their opening three league games.
However, despite the turmoil in the Cobh camp, Harps boss Ollie Horgan is expecting a tough encounter on Friday.
"Cobh are always very difficult opponents," said Horgan. "The fact that Martin Cambridge has stepped down will allow a new manager to give them a boost for the weekend.
"Martin assembled a very strong squad with talented players, some who have played at a very high level in England," continued Horgan as he prepares for Friday's game. "We failed to score in our last two meetings with Cobh so we know how tough it is going to be."
Harps will go into the game as favourites having picked up seven points from their opening three games and have yet to concede a goal in league action this season. After an opening day scoreless draw at Tolka Park against Shelbourne, Harps followed that up with back-to-back 2-0 victories against Cabinteely and Waterford United.
"We had a good result in Waterford," said Horgan of last Friday's game at the RSC, "although the scoreline was a little flattering in our favour.
"The second goal, albeit a well taken goal, was against the run of play in injury time when Waterford had pushed men forward – and this left them short at the back especially as Shane Nolan was already off the field.
"Waterford has more possession and probably a couple of more chances than us so while it was a good result we ran our luck a little," commented Horgan.
While Harps have kept their opposition scoreless in their opening league games and remain unbeaten, Horgan is warning caution insisting the club have been in this position in the past. In each of the last two seasons, Harps have had seven points after three games – and find themselves in the same position again this year.
"Although we have kept clean sheets, we have given away a lot of chances especially in the two away games," said Horgan. "Obviously we are happy with the first few results but we were in the exact same position last year and didn't win another game for six weeks after," he said.
On the team front for Harps, Packie Mailey remains sidelined, while Ruairi Keating – who hit two goals against Cabinteely in Harps' last home game – is a doubt.
The two clubs have met on ten occasions in the last two seasons since Cobh returned to senior football in 2013 after a four season absence. Harps hold the upper hand from those meetings having lost on only two occasions – both times in St. Colmans Park. Although Cobh have held Harps scoreless in each of the last two meetings between the sides, the previous eight games had seen Harps hit the back of the net 22 times including five in the Finn Park meeting between the sides twelve months ago.
TEAM NEWS
Suspended: None.
Doubtful: Ruairi Keating.
Injured: Packie Mailey.
FORM GUIDE (last six league games)
Finn Harps: W-L-L-D-W-W (10 pts)
Cobh Ramblers: L-L-D-L-L-L (1 pt)
RECORD AGAINST COBH RAMBLERS (All competitions)
Friday's game will be the 62nd meeting of the two clubs, and the 30th to be played in Finn Park.
Total Games: 61 (29 at Finn Park)
Harps Wins: 23 (13 at Finn Park)
Cobh Wins: 20 (5 at Finn Park)
Draws: 18 (11 at Finn Park)
Harps Goals: 80 (43 at Finn Park)
Cobh Goals: 67 (24 at Finn Park)
LAST 10 GAMES v COBH RAMBLERS
15-Mar-13 Finn Harps 4-1 Cobh Ramblers (First Division)
04-May-13 Cobh Ramblers 2-2 Finn Harps (First Division)
05-Jul-13 Finn Harps 2-2 Cobh Ramblers (First Division)
23-Aug-13 Finn Harps 1-1 Cobh Ramblers (FAI Cup)
26-Aug-13 Cobh Ramblers 0-4 Finn Harps (FAI Cup)
31-Aug-13 Cobh Ramblers 3-2 Finn Harps (First Division)
21-Mar-14 Finn Harps 5-0 Cobh Ramblers (First Division)
10-May-14 Cobh Ramblers 0-2 Finn Harps (First Division)
11-Jul-14 Finn Harps 0-0 Cobh Ramblers (First Division)
06-Sep-14 Cobh Ramblers 1-0 Finn Harps (First Division)
LAST TIME v COBH RAMBLERS at Finn Park
11th July 2014.
FINN HARPS 0
COBH RAMBLERS 0
Finn Harps: Conor Winn; Damien McNulty, Packie Mailey, Keith Cowan; Caoimhin Bonner (Thomas McMonagle 50), Gareth Harkin, Pat McCann, Josh Mailey (Carel Tiofack 81), Ciaran Coll; Paul McVeigh (Darragh Black 65), Kevin McHugh. Subs not used: Graham Fisher, Tommy Bonnar, Shaun Patton.
Cobh Ramblers: Shane Hallahan (Robert Birdsall 9); Roy Kenny, Craig Burns, Brendan Frahill, Anthony O'Donnell; Martin Deady, Christopher McCarthy, Stephen Kenny (George Gill 82), Garry Comerford, Ryan Goldsmith; Brendan Kenny (Kynan Rocks 56). Subs not used: Cian Murphy, Nathaniel Gumbo.
FINN HARPS GOALSCORERS 2015 (All competitions)
Ruairi Keaing 2
Gareth Harkin 1
Damien McNulty 1
Brian McGrory 1 (in League Cup)
Keith Cowan 1 (in League Cup)
FINN HARPS RESULTS / FIXTURES 2015
Mar Fri 06 Shelbourne 0-0 Finn Harps
Mon 09 Galway Utd 3-2 Finn Harps (League Cup)
Fri 13 Finn Harps 2-0 Cabinteely
Fri 20 Waterford United 0-2 Finn Harps
Fri 27 H Cobh Ramblers
Apr Fri 03 A UCD
Fri 10 H Athlone Town
Fri 17 A Wexford Youths
Fri 24 H Shelbourne
May Fri 01 A Cabinteely
Fri 08 H Waterford United
Sat 16 A Cobh Ramblers
Fri 22 H UCD
Tags: