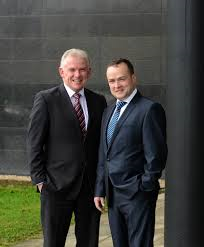 Consultas is a Letterkenny based financial services company that specialises in Debt Management.
The economic collapse put unbridled strain on both homeowners and businesses who ultimately over borrowed during the boom times, more commonly referred to as the Celtic Tiger.
Whether it be negotiating restructures or settlements from Banks, CONSULTAS can assist businesses and individuals who over borrowed during the boom times.
Now that the economy is taking off again and showing signs of recovery CONSULTAS can help companies or sole traders arrange new finance from Banks to help them develop their existing or start up business.
The company is owned and operated by Niall Kavanagh & Tom McDonagh both of whom have many years' experience working in the banking/finance industry.
Consultas is currently the only company authorised by The Central Bank to carry out Debt Management Services in Co Donegal.
Both Niall & Tom are Qualified Financial Advisors and their company now offers the full range of financial services including Debt Management and as agents for various life assurance companies in the provision of all your Protection, Investment and Retirement Planning needs.
SMEs
If your business is carrying too much debt, probably because you invested in property at the wrong time then we can help you to negotiate restructure arrangements with your bankers with a view to safeguarding the long term future of your business.
Alternatively if you are expanding or developing your business and need help in arranging new finance please contact us.
Personal
You may have borrowed to invest in one or more properties during the boom times and now find that you are under pressure to keep your repayments up to date on properties that are probably valued at much less than the original cost.
We may be able to help you to come to an agreement with your bankers to resolve your present difficulties.
Mortgages – If you are trying to buy a house and need help to arrange a Mortgage we may be able to assist you.
Life Assurance & Protection /Funds to invest.
If you have a need to arrange new life cover be it to protect you or your family or indeed if you have surplus funds to invest and are not happy with the low interest rates being offered on traditional deposit accounts please give us a call.
Consultas Financial Services Ltd are based in Letterkenny.
Contact Details : Niall 083 4274881. Email niall@consultas.ie
Tom 087 2834207. Email tom@consultas.ie
Tags: