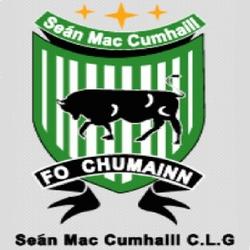 Mac Cumhaills GAA News:
Donegal Minor Footballers:
Well done to Nathan Gavigan and the Donegal minor footballers in their Ulster semi-final win over Down last Saturday at MacCumhaill Park. They now play Derry in the final on Saturday. Best of luck!
Donegal Hurlers:
A brilliant display from the Donegal Hurlers in their replay win over Tyrone saw them avoid relegation. Continued praise for our club members on the panel.
Senior Team Football Result:
Our senior team played Bundoran on Sunday afternoon. With a large number of players still unavailable for selection taking on the second placed team in the league was going to be a tough task with both teams having started the league strongly. Keep up the work lads and positive results will follow. Full Time Score: Sean MacCumhaill's – 1.08 Bundoran – 2.09
We are away to Fanad Gaels next week at 3.00pm in Tri A Loch.
Reserve Team Football Result:
Our reserve team played Bundoran in Mac Cumhaill Park on Sunday afternoon. The saying is that goals win games and this was certainly the case when we racked up 6 goals in the first half alone. After starting their season with two defeats this result will hopefully go a long way to spur the team on for the games to come. Well done to the team and management.
Final score: Sean Mac Cumhaills 6-14 – Bundoran 0.14
Third Team Football Result:
Hard luck to our third team who were beaten by St. Eunan's on Saturday night at home. Keep up the hard work lads and the results will follow. Sean Mac Cumhaills – 2-04 –
St. Eunans – 4-10
Club Donegal Cards:
We have a number of Club Donegal Cards which will grant access to the All-County League and every Club Championship game for the forthcoming season. The cards are priced at €50 for the card alone or €70 for a card plus a Club Donegal item of clothing when it arrives (possibly an O'Neill's Polo Shirt this year). Anyone interested please contact Eugene Gallagher on 086 609 8801.
Coaching Officers:
The club are currently seeking people to fill the roles of Football and Hurling coaching officers within the club. These are very important roles in the club. Anyone interested in these positions please contact Minor Board Secretary Bryan Cannon on 087 623 6599.
Club Lotto:
The club are asking for people to help out by selling lotto's. This would involve helping to sell 1 week out of every 7 or 8 depending on the amount of teams formed. This is an important source of funding for the club and a great way to help get involved with your club. All help available would be greatly appreciated. If interested please contact Terry O'Reilly on 086 609 5347.
Lotto Results:
There was no winner of this week's Lotto. The numbers drawn were 2, 19, 29 and 30. There was one match 3 winners. Brendan O'Donoghue, St. Columba's College receives €150. Next week's Jackpot is €4,700. Eugene Gallagher's team is selling this week. If you're not in you can't win!
Bingo:
The Bingo takes place in the Villa Rose on Sunday night with an 8.30pm start. The Snowball jackpot is €9,000 for 45 numbers or less. All are very welcome.
Training Schedule:
New players to all teams are more than welcome. If there is a change of time/location it will be noted on Facebook or sent via text. Training will cost 2 Euro every night, and all players must have their membership paid also. Please bring gum shield and water bottle.
Training for our Under 6's is on a Wednesday evening in St. Columba's Hall at 6.00pm.
Under-8 training is on Wednesday evening at the club at 6.00pm, all boys and girls are welcome.
U-10 football for boys and girls is on
Wednesday evenings at 6.00pm at the club.
U-12 boy's football is on a Wednesday at 7.00 to 8.00pm.
The U-14 boy's football training is on a Sunday morning at 10am.
U-16 boy's football training is on Friday from 6.30 to 7.30pm.
Minor football training is on a Monday from 7pm and a Friday at 7.30pm.
U-8 & U-10 Hurling is at 1.00pm to 2.00pm on Sunday.
U-14 & U-16 Hurling on a Monday from 7.00 to 8.00.
The U-12 girl's football continues on a Tuesday evening from 6.00pm to 7.00pm.
The U-14 girl's football is on a Tuesday from 6.30pm to 7.30pm.
The U-16 and Minor Girl's Football is on Thursday from 7.00 to 8.00pm.
The U-12, U-14 and U-16 Girls camogie is on a Monday at 4.30 to 6.00pm and a Friday from 5.30 to 7.00pm.
Club Shop:
The club shop will be open on a Wednesday from 5.45 to 7.15. The club stocks a large amount of club-crested shorts, gloves, bags and bottles and a limited number of club crested O'Neills half-zip tops.
Steward Bibs:
Anyone in possession of a club steward's bib is asked to return it to the club as soon as possible as we get ready to prepare for the Tyrone Championship game.
Tags: