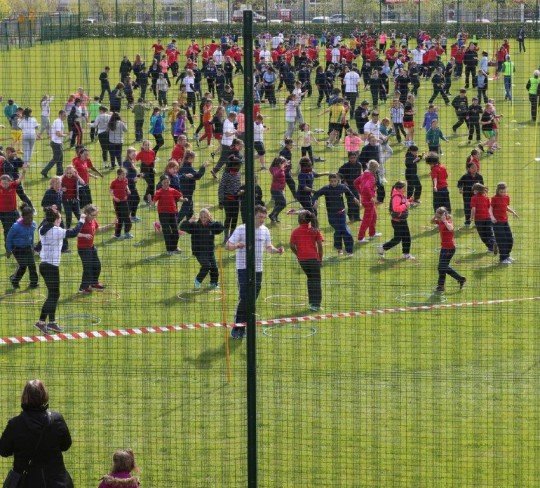 Schoolchildren from all over Donegal have combined to set a new WORLD RECORD for Hula-Hooping at the LYIT campus today. 
The event which was organised by fourth-year Sports students at LYIT was attended by hundreds of kids from schools in Letterkenny, Drumkeen and Ramelton.
To break the world record the children had to participate in a six-minute Hula-Hoop workout.
And, in glorious sunshine, a total of 461 children did just that!
The previous Guinness WORLD RECORD for a Hula-Hoop workout was set by 407 schoolchildren in America.
Del Rey Elementary School in Orinda, California, held the previous Guinness World Record by participating in a five minute Hula-Hoop workout.
However, today schoolchildren from all over Donegal smashed that record by participating in a six-minute Hula-Hoop workout.
The event was organised to raise funds for Motor Neurone Syndrome.
One of the co-organisers, Ciaran McBride from Letterkenny, told Donegal Daily they were delighted with the turn-out.
He says he hopes to hear back from the Guinness World record organisers very soon.
"There was strict criteria. We had to video all the children going in and we will send that off to get it verified. We had the numbers and hopefully we have done enough to break the record," he said.
Tags: