Selecting, Planting and Managing Trees….
With Horticulturist Gareth Austin
Trees provide many great functions in our gardens, from providing screening, windbreak, avenues, cleaning air and more, and as such the guidelines for their selection will dramatically vary depending on the intended use….
Providing Shelter
Trees are great for this, far more effective than a wall or a fence. Trees filter wind, calming it down as it passes. Trees will provide an effective windbreak to a distance twice their height, but will affect the flow of air for up to six times their own height (so, a 20' tree will give shelter up to 40' away, but will still affect airflow up to 120' away). Trees provide better shelter when planted in groups, not straight lines. A group of trees planting in the South West corner will be far more effective than a whole line of trees planted down the side of your garden. Each tree in the cluster shelters each other by creating a microclimate, so the collective growth is faster than one tree on its own.
Privacy
Trees can give a great sense of privacy in a back garden. A few trees dotted around a town garden can give the user a feeling of shelter and privacy. The open crown of a tree such as a white stemmed birch gives privacy without blocking out much light, simply by created broken sightlines.
Evergreens
There are very few evergreen trees which are native to the North West of Ireland. Most of the conifer types are imports from the new world of America. But the Scots Pine tree is a handy tree to plant on the North side of a property due to its hardy growth and evergreen needles. These evergreen needles help to shelter the house from these cold winds, thus helping to reduce your winter heating costs!
Planting
The process of planting is largely the same, irrelevant to the type of tree being planted, and the reasons for it being planted. Here are my steps to success with tree planting:
• Size of the Hole.
Dig a planting hole, at least twice the size of the pot/root ball that the tree comes in. When you dig out the soil keep the top soil to one side and the sub soil in another pile. Any large rocks/stones can be lifted out at this time too. Dig a square hole, not a round hole, as this encourages the roots to explore their new home quicker.
• Enriching the soil.
The top soil that's been excavated should now be enriched with some homemade compost, some well-rotted manure, some bought compost or perhaps some seaweed (basically any form of organic matter you have to hand), mix this through the excavated top soil, maybe aiming for a 75/25 mix of soil/organic matter. Always enrich soil, never replace soil. If you dig a massive hole, fill it with compost and plant your tree, the tree will grow like the wind, but then when its roots come to the indigenous soil the growth then slows down as its not used to your soil.
• Fertiliser.
When you're enriching the top soil, add a good handful (or more) of chicken pellets or Fish, Blood & Bone Meal. These slow release fertilisers provide a small amount of nutrition over a long period of time, and with them being organic based they help to improve soil structure as they break down.
• Mycorrhizal Fungi
Mycorrhizal fungi is a beneficial fungi which shows substantial benefits to plant growth. When you're planting a tree dust this fungi over the roots. These fungi then attach themselves to the roots of the tree, branching off from them, and thus substantially increases the surface area of roots, allowing the tree to uptake more water and nutrients. In future weeks we'll cover this more and more, explaining the science behind it. But take it at this time that it works, it's amazing and whenever you're planting, use it.
• Staking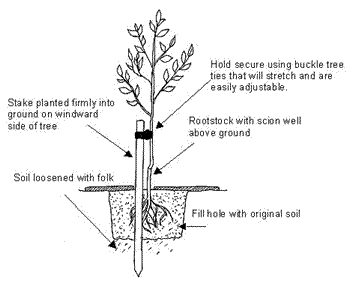 Ensure any new tree are properly staked. A strong stake should be placed on the windward side of the tree (the side that the wind comes from). You want the tree to be pulling against the stake, instead of leaning on it. The stake is just to ensure the root ball doesn't rock in the ground and that the roots have a firm footing in the soil during the initial few years. It is not to support the stem. The stake might be 3' above ground level, but target no more than 50% of the distance between the ground and where the trees crown starts. If the tree is staked too high then the crowns doesn't 'sway' in the wind. This swaying encourages the development of a stronger root system, a thicker stem and stronger tree. If the tree is too high staked the tree is likely to grow very thin, with a poorer root system.
• Watering
Water the tree before you plant it and then immediately after (just like you would any other plant). If its dry weather when you're planting then fill your excavated hole with water prior to planting and once this has drained then plant your tree into this moist planting hole. In sandy soil line the planting hole with damp newspaper to conserve moisture around the roots. After planting check the tree for watering. In dry weather provide the tree with around 2 gallons once a week if required. An established tree can use around 500Litres of water a day!
• Mulching
After all the planting and watering has been done then the last step is a mulch. A mulch could be bark chipping, it could be more well-rotted manure, seaweed or the likes. The purpose of the mulch is to reduce weed or grass growth around the tree. The first 4 years after planting is when trees growth can be stunted and slowed, by up to 70%, simply by grass growing up the trunk.
Things to remember when planting trees.
Trees don't produce massive deep roots. Most people think that tree have roots like carrots, this is largely inaccurate. The vast majority of the roots from a tree are found in the top 12inches of the soil, and their roots will spread out horizontally up to 3 times the width of the trees canopy. So if the tree is 15' wide, its roots will spread 45'! So bare this in mind when choosing a planting spot. I'll give you an example. Cherry Blossom trees are commonly planted up a driveway. Cherry blossom trees have very shallow roots so if they're within 6' of a kerb they will eventually damage that kerb and start to lift the tarmac. So plant them at least 15' inside the kerbline.
Long term maintenance
Feeding. Never feed trees apart from at planting (simple advice ). A tree that is mulched regularly will not need feeding, as they'll get all their energy from the sun. If you feed you'll get a faster growing tree, but it won't be as well balanced or as strong. So just mulch every Autumn and leave it at that. If you can't mulch, for whatever reason, then a feeding of Fish, Blood & Bone Meal in late Autumn is the next best thing. Feeding then with this fertiliser encourages the tree to keep growing roots in the winter months. A tree may need some pruning, to manage the crown shape or remove diseased or damaged branches. This pruning is largely best done in the winter months, before March, as it's easier to cut when they're no leaves in the way, and they'll be no bird nesting in the branches at this time of the year. Don't waste your money on pruning sealers, they don't work and can encourage disease.
This weekend the fabulous North West Garden Show is on at the CPI Complex in Castlefinn and Gareth will be there all day Sunday. "Ask Gareth Sunday" is a series of workshops running every hour where Gareth demonstrates all the key gardening tasks, from planting trees to lawn care, to planting containers, taking cuttings, using green manures and more! So get down to Castlefinn this Sunday and look out for the Donegal & Derry Dailys Gardening Guru in action!
Next Week….To ash or not to ash, that is the Question!
Gareth Austin is resident Horticulturist with BBC Radio Foyle, a member of the Chartered Institute of Horticulturists and lectures in Horticulture with Donegal ETB. For more see www.garethaustin.com or join Gareth on Twitter @GardenerGareth .
Tags: