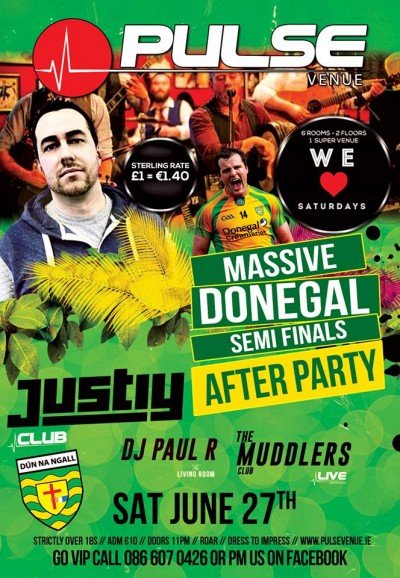 ENTERTAINMENT: IT'S FRIDAY AGAIN! We had a sensational weekend at Pulse Venue for the Donegal International Rally and we've another crazy weekend in-store for all you revellers.
It's the summer and EVERY weekend is a MASSIVE weekend and this weekend we're getting behind the boys in GREEN and GOLD.
Donegal have a huge game in the Ulster SFC semi-final against Derry on Saturday and hopefully we'll be celebrating another big win.
We're hosting a MASSIVE Donegal after-party, if you wear your Donegal jersey into the venue we'll give you FREE SHOTS!
Weekend line-up:
Dj Justiy in Club ✔…
The Muddlers Club in Live Experience ✔
Paul R in The Living Room ✔
Pulse Venue – 9 Bars – 6 Rooms – 1 Super Venue.
Tags: