UFC SEMI-FINAL: The superlatives used to describe Michael Murphy have been exhausted at this stage but former Kerry star Darragh Ó Sé again praised the leadership qualities of the Donegal captain.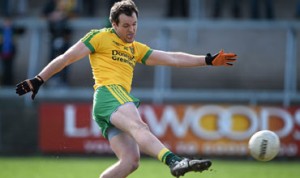 Ó Sé was in Clones covering the game as an analyst for Sky Sports where he was joined by former Donegal manager Jim McGuinness.
They both concluded Donegal had been much better in previous outings against Tyrone and Armagh.
But the pair admitted that much of that was down to the intensity and organisation brought to the table by Brian McIver's Derry side.
Derry played well and were arguably the better side with Marty O'Reilly's goal the difference between the two sides.
Derry had TWO good goal chances, a first minute save from Paul Durcan was superb, while Neil McGee cleared one off the line.
However, while Colm McFadden was awarded MOTM by Sky Sports, Ó Sé reserved his praise for Murphy.
The Donegal captain had a very quiet first-half and missed some frees in the second-half that he usually knock over with ease.
Ó Sé said his two superb scores were vital and his block late on was crucial.
Ó Sé said, "Michael Murphy is a serious leader, time and time again when Donegal need him he steps up to the plate and delivers.
"He scored a monster at that start of the second-half, and after O'Reilly's goal theywent  twenty minutes without a score and Derry were back to within two.
But he landed a beauty and that steadied Donegal and then he made a vital block in his own defence after that.
"Durcan hit him with three or four kick-outs after that and he's just a serious leader.
"It was far from his best display but he's a serious player and a superb leader and he is so, so vital for Donegal.
Tags: