Bruckless/Killaghtee/Dunkineely notes 29.06.15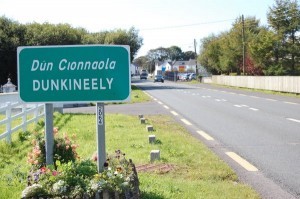 Rev John and Vanessa Purdy have left Donegal
Last Saturday's 'Farewell Funday' for the Purdys was thronged by young and old from the local community. The very large crowd that attended was a measure of the esteem in which this popular couple were held. John's work with his own congregation, the cross-community 'Dunkineely Community Ltd' and with 'Ardara Sheltered Housing', endeared him to everyone who knew or had met him.
It has been said that, 'behind every successful man there is a great woman'; and Vanessa was that great wee woman!
We wish them every happiness and fulfilment in their new posting. They will be sadly missed.
Rev Des Davis
Dunkineely and Ardara Methodist congregations welcome Rev Des Davis to Southwest Donegal. When asked, this is the description he gave of himself. "I am a Co Wicklow man from a little village called Kilcoole. I have worked as a gardener, a shop assistant in a hardware store and working with people with special needs (not sure if that is the correct term now), for just over 10 years. For five years before going to college I worked as a lay pastor in Youghal Methodist Church. I am a lover of nature, I love walking by the sea and being up the hills." If he loves the sea and the hills, then I think, he will feel very much at home here!
Dunkineely Festival
Dunkineely will be having a festival on the first weekend of August. Anybody willing to help, please contact Dunkineely Community Ltd office on 087 3421922 or 074 9737678. Thank you.
Bruckless Boat Club
Bruckless Boat Club will be holding a coffee morning and cake sale on Sunday July 5th after service in the community centre Bruckless.
The club is newly reformed this year and we have had a great response from the community. All new members welcome; young and old! There will be a draw on the day with two great prises for families.
Dyslexia Specific Training for Teachers
Sliabh a 'Liag Dyslexia Workshop are organising Dyslexia Specific Training for Teachers. This training course is scheduled for July 21st, 22nd & 23rd in An Fiontarlann, Ballymoon, Kilcar, will be delivered by The Dyslexia Association of Ireland (DAI) with certification awarded upon successful completion.
Calling All Gardeners, From the 'Five Points' to 'Inver Bridge'!
Due to this year's poor spring, many gardens are away behind where they were this time last year. Consequently, we have had several requests to delay the competition judging date of 'Dunkineely in Bloom' by a few weeks. Judging will now take place on Sunday the 26th July. We will be taking entries up to Friday 17th July.
The Competition Categories will include:
• Best town garden
• Best country garden
• Best container display
• Best business (including bars)
Entry forms are available from the Dunkineely Community Limited (DCL) office and in local shops.
Bus Tour Day Excursion
Conneely Travel and JIW Tours have organised a one day excursion to Inishowen and Doagh Isle Famine Village on Saturday 4th July. This is a fun, social bus tour outing, with some gentle strolls and a guided tour along the way. The tour will include an outdoor lunch, a3 course meal in the Lake of Shadows Hotel, Buncrana, and a mystery stop for music and dancing on the way home. For further info, cost and bookings ring Keith on 087-9213200.
Depart Tara Hotel Killybegs 9:00am. Depart Dunkineely 9:10am. Depart Mountcharles 9:20am and Depart Donegal Town 9:30am.
Courses
Dunkineely Community Ltd (DCL) are planning a six week course in either Upcycling (i.e. converting old and waste materials into something new and useful e.g. furniture) or a Follow-on Interior Design Course with Sile Kelly (the most popular of these two would run).
If you are interested in any of these, please contact the DCL office on 087 3421922 or 074 9737678 as soon as possible. Courses will run subject to application for ETB part funding on the Community Education Support Programme.
ETB Adult Education Services
The following courses for adults may be commencing in Donegal Town in the near future.
• European Computer Driving Licence (ECDL) Monday & Tuesday 9.45am to 1.45pm
• QQI (FETAC) Level 4 Major Award in Information and Communications Skills. Wednesday, Thursday & Friday 9.45am to 1.45pm
• QQI (FETAC) Level 5 Major Award in Nursing Studies. Thursday & Friday 9.30am to 2.30pm and alternate Wednesday 9.30am – 1.30pm. (limited places available).
• QQI (FETAC) Level 5 Major Award in Early Childhood Care & Education. Monday & Tuesday 9.30am to 1.45pm and alternate Wednesday 9.45am to 1.45pm. (limited places available).
The courses are part-time and are free of charge to any adult with less than upper second level education / have a social welfare payment / have a medical card. Courses are accredited by QQI (Quality and Qualifications Ireland) and do not affect existing social welfare entitlements. For further information and an application form contact: 074 9725520 or email: [email protected]
Local Representative
Cllr. Niamh Kennedy will be available for members of the community in DCL office, Dunkineely on Thursday evenings 5:30 – 7:30pm. Mobile: (087)2062336 Email: [email protected]
Ceol agus Craic
Traditional music session each Wednesday at McIntyre's Bar, Dunkineely at 10pm. All musicians and singers welcome.
Recovery from Emotional Distress
G.R.O.W. – Gradually, Regaining, Our, Wellbeing! Support and a program for recovery. Weekly Meetings at Niall Mor Centre, Killybegs on Thursday evenings at 7:30pm. Also in the Day Hospital, adjacent to Donegal Hospital on Tuesday evenings at 8:00pm. For further information contact Marian on (086)7856912. All are welcome.
DCL Office
Please feel free to pop into the office any morning Mon-Fri 9.30-12.30 and chat with Michael, use the Internet (20c per half hour), print or photocopy documents (20c per page) or borrow a book (20c per book).
Going on a Sun Holiday?
Print you Boarding Pass with us in the DCL office.
Researching a Family Tree?
DCL has a copy of the adjoining Methodist Church index of Births & Marriages 1860 -1899 (Ardara and Dunkineely). Also the Burials Register for the same congregations from 1950 to 2007.
Library
Dunkineely Community Ltd (DCL) – Has a small library of over 500 books from Children's Literature, Teenage Fiction (The Fault in our stars), Classics (Jane Austen – Pride and Prejudice), Horror, Comedy, Booker-Prize etc. Borrowing 20c per book.
Tags: