Aodh Ruadh GAA News:
Football
Aodh Ruadh's winning run in division three was brought to an end in Father Tierney Park, after a powerful Milford side took the honours winning by four points.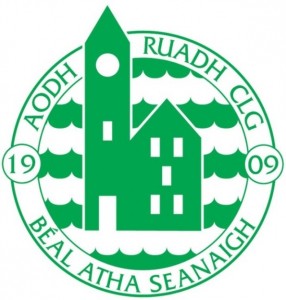 Aodh Ruadh lead by a point at the interval, but Milford were the more economical side in the second half and punished every Ballyshannon error. A disappointing 1-7 to 0-14 defeat for the hosts, but there were good performances from Johnny Gallagher at centre back where he got good defensive cover from Michael Ward and Callum O'Halloran. Meanwhile Diarmaid McInerney and Sticky Ward both worked hard front. There is a full report and pictures from the game up on aodhruadh.org.
There was better news for the reserves who easily disposed of the Milford challenge in the first game. They lead 2-7 to 1-2 at the turn-over and made light of the facing wind in the second half to leave the final scores Aodh Ruadh 7-12 Milford 2-5. Best for Aodh Ruadh were Matthew Maguire who impressed on his return to club colours. Ryan Patton and Darren Gethins also starred in the defence. At midfield Aidan Murray and Niall Thomas were totally dominant and the whole Aodh Ruadh attack with in fine form. We have a full report and pictures from the game up on aodhruadh.org.
Aodh Ruadh's next round of fixtures will be on Wednesday 8th July when they travel to take on Naomh Bríd. The senior game throws in at 8pm and is preceded by the reserves at 6.30pm.
Monday evening's minor championship game against Saint Naul's had to be abandoned after Philip Patton was taken to hospital with a suspected collapsed lung. All in the club wish Philip the very best for a speedy recovery.
The under 14s will be travelling to a match in Grange this Wednesday 1st July. We will be looking for parents to assist with transport to this game. All players and parents/guardians able to help with transport are asked to assemble at Father Tierney Park for 6.15pm. Game at 7.30pm. This is an important game as it's our last before championship. Text John on 087-6431805 if help with transport is required. Training on Saturday at 11am.
Aodh Ruadh take on Four Masters in the under 12 Southern Divisional Board League Final this Friday. The game is in Tír Chonaill Park, Donegal Town, with the throw-in at 7pm. Please come along and get behind our boys and help to support them. The more voices of encouragement they hear, the better their performance will be. The two sides played a very closely contested game in Father Tierney Park last Friday, so this entertaining game could go either way.
Training continues this Friday for the under 8s and under 6s from the earlier time of 5.30pm to 6.30pm in Páirc Aoidh Ruaidh. This is to give people a chance to attend the under 12 divisional final in Donegal town at 7pm.
Euro-Shot Challenge
Sheets will be going out over the next week to all underage players for Bord na nÓg's inaugural Euro-Shot Challenge. The concept is simple, points win prizes. The more points your team scores, the more chance they have of winning a special team prize. There are three prizes on offer. The under 8s and under 10s will be competing for a team trip to Castle Adventure Open Farm. The under 12s and under 14s will face off for a team outing to Bundoran Cineplex. Meanwhile the under 16s and under 18s are competing for a beach party and barbecue sponsored by Kernan's Spar. Shots are a €1 a go with the Euro-Shot Challenge taking place on Sunday 12th July in Páirc Aoidh Ruaidh. The more lines you sell, the more shots you get. But the important thing is putting the shots over the bar, which makes this fund-raiser a great way to hone one of the most important aspects of our games. All players will have to take a minimum number of shots, so even if you only score one point, it could be the one that wins that wins your team the prize. There are individual prizes for the top scorers in each team, while the overall highest scoring team will take home the handsome Euro-Shot Challenge Plate. To make it easier to sell lines, there are also two tickets to the Ulster final up for grabs, with the winners being drawn on the day of the Euro-Shot Challenge, a week before the final. Our special thanks to Kernan's Spar, Eclipse Cinemas and Castle Adventure Open Farm for their sponsorship of this fund-raiser. Euro-Shot Challenge sheets can be downloaded directly from aodhruadh.org.
Hurling
Under 12 Hurling. We have pictures from the match up on aodhruadh.org.
Training every Sunday at 12 noon for all underage groups. For any information required in relation to underage hurling please contact John Rooney 086-2587793.
Ladies
The Aodh Ruadh under 14s lost out in their A championship clash with Naomh Conaill last Tuesday. Aodh Ruadh started well, Cáit Gillespie striking the first goal of the game, but Naomh Conaill came back strongly and were winning at half-time. Aodh Ruadh made some positional switches at half time and they sparked a come-back. The hosts shot five goals to take themselves back into the lead, Eva Moore, Melissa McGowan and Cáit Gillespie among those finding the net. However Naomh Conaill finished the final quarter the stronger of the sides and went on to secure the win. Best for Aodh Ruadh on the day were Bridín Maguire who made a number of magnificent saves and used her kick outs well. Ella Clancy was superb at wing back, while Caoimhe Keon did very well in midfield and up front Shona Slevin put in a fine shift. The Aodh Ruadh team was: Bridín Maguire; Leah Travers, Alicia Clyne, Erin McGowan; Katherine McClay, Síofra Hughes, Ella Clancy; Leah O'Brien, Caoimhe Keon; Shona Slevin, Melissa McGowan, Roisín Daly; Alana Gallagher, Cait Gillespie, Dearbhla McGuckin. Substitutes: Eva Moore, Chloe Connolly. We have pictures from the game up on aodhruadh.org.
The under 12 girls have a game this Thursday in Killybegs with the throw-in at 6.30pm. The team will leave the park at 5pm.
This Wednesday the under 10 girls will be travelling to MacCumhaill Park, Ballybofey for a challenge match against MacCumhaill's. We will be leaving the Park at 5pm. Anyone who needs a lift should contact Gaby or Louise.
Under 12, under 10 and under 8 training continues on Mondays from 6pm to 7pm.
Summer Camp
Aodh Ruadh Summer Camp 2015 runs on Monday 6th July-10th July and Monday 13th July-17th July. The camp runs from 10am to 3pm daily. Each week the camp will cater for all ages from 6 to 14, both BOYS and GIRLS. Activities include skills training, fun and games, Gaelic football, camogie, rounders, hurling and swimming. Applicants should bring a packed lunch as no one will be allowed to leave camp during the day. The camp runs from 10am to 3pm. Cost is as follows: One child €70; Two children €120; Three children €180; Four children €200. For further information contact Sylvester Maguire on 0860532495.
Cash for Clothes
Juvenile Hurling Committee are having our annual clothes recycling campaign for the month of June. We are looking for all used clothes, shoes, handbags, bed linen, etc. For any information in relation to this recycling campaign please contact John Rooney 086-2587793, Tara Keenaghan 086-3331903 or Fionnula Gillespie 087-6668634.
Club kit
We now have official club shorts available to order. They are O'Neill's, so top quality kit. Kids sizes (24 and 26) cost €18, while adult sizes (28, 30, 32, 34,  36 and 38) cost €22. We'll have samples available and images on aodhruadh.org. Contact Chris Kelly on 0868813553 to place your order. Our navy blue soft shell jackets are also back on sale. We now have three youth sizes available. Ages 7-8 priced €40; ages 9-10 priced €40; and ages 11-12 priced €45. All jackets will have the Aodh Ruadh and GAA crests, plus the child's initials on the sleeve. We are also able to order Ladies soft shell jackets with pink Aodh Ruadh crest and GAA logo. We are also selling adult jackets. You can check out samples of the shorts and jacket on aodhruadh.org. For further details call Chris on 0868813553.
Abbey Centre Bingo
Richie Newell won the €800 big bingo jackpot. Bingo as usual this Friday at 9pm in the Abbey Centre. The game seven summer snowball is now €425 on 50 numbers or less. Plus we still have our spot prize on 42 to be won!
Aodh Ruadh Lotto
There was no winner of last week's Aodh Ruadh Lotto jackpot of €6,300. The winning numbers drawn were 4, 6, 8, 10, 14 and 16. In the lucky dip €20 went to: Tom Conlon, Clones; Bridget, McDermott Belleek; Mary McKenna, Ballyshannon; Pat Melly, Pat's Bar; and Emer McFadden Wardtown. Next draw in Dicey Reilly's with a Jackpot of €6,400 on Sunday at 8.30pm.
The lotto team for McCosker's Centra this Saturday is: SENIOR FOOTBALLERS.
You can receive the club notes by e-mail every Tuesday morning. To subscribe, enter your details on the website, www.aodhruadh.org, or e-mail your request to [email protected]
~~~~~~~~~~~~~~~~~~~~~~~~~~~
This is the weekly e-mail newsletter from Aodh Ruadh GAA Club. If you have received it in error, please contact us at [email protected]
Follow us on the social media
Facebook: Aodh Ruadh CLG
Twitter: @aodhruadh.
Tags: