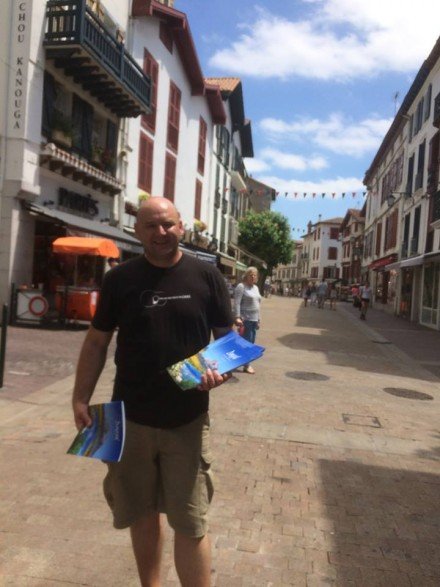 A local councillor decided to continue to serve his electorate whilst on holiday by giving away magazines which were produced to help promote the stunning Wild Atlantic Way.
Independent councillor Micheál Cholm Mac Giolla Easbuig went on holidays with his family to France and the Basque region.
However, the affable local councillor decided to bring EIGHTY magazines which were made by the Donegal County Council to promote the Wild Atlantic Way to help boost tourism for Donegal overseas!
Mac Giolla Easbuig said many of the people he spoke to had never heard of Donegal, but said many had visited Donegal and disclosed their warmth and love for the county.
Mac Giolla Easbuig told Donegal Daily, " Before I went on holidays with my family to France and the Basque country, I got a box of EIGHTY new magazines which were aimed at promoting Donegal and the Wild Atlantic Way.
"I thought it would be a good opportunity while in this part of Europe I could help promote Donegal.
"When we were in a small village, big town or even in a city like Donostia, I would just stop people on the street and ask them could they speak English.
"If they could I would tell them what I was doing!
"Some people never heard of Donegal, but some people did and the one thing that everyone said was how beautiful Donegal was.
"Those that hadn't visited Donegal remarked beautiful our county looked when they seen the photographs in the brochure.
"I'm not sure if anybody that I talked to will ever come to Donegal but I certainly enjoyed doing it and I think it was worthwhile!
Bookmakers have now slashed Mac Giolla Easbuig's odds on being the next Minister for Tourism in forthcoming General Election!
Tags: