MAKE MINE A POPSICLE – Voodoo Gardens is back for the Summer along with the Liquor Rooms Letterkenny!!
Combining an array of funky upscale unique cocktails and popular drinks promotions to choose from, The Liquor Rooms offers the Ultimate late night experience.
Located up the side alleyway of Voodoo Venue, The Liquor Rooms Club and Gardens is fast becoming Donegals most loved late night.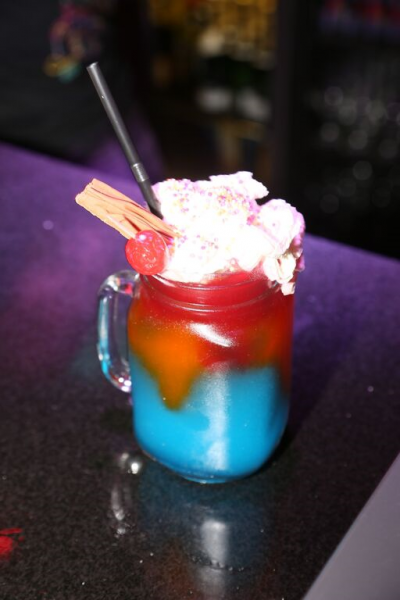 Working the late shift?? Its perfect.. Doors open at 12 Midnight every Thursday and Sunday Night!
Quirky Creations: The Liquor Rooms drinks include – Jolly Rancher ~ Whambar ~ Barbie Cocktail ~ Rainbow Popsicle ~ Sour Patch Kids Martini ~ Milk Bottles ~ Beer In A Cup ~ Slushies ~ Shark Tank ~Coronanita ~Sangria ~ Gummy Worms
The New edition to Voodoo Venue have designed the Ultimate Summer Experience with their new menu, a perfect combination of alcoholic delight and cool refreshing flavours certain to have you hooked..
Their selection of liquored slushies are extremely light and fruity and go down phenomenally easily in these Summer Nights.
Award winning Mixologist Emer Mc Glynn who devised the drinks menu and selection quoted "I wanted to complement the cocktails with bespoke lollies, gummies, sweets and bars that would collectively produce a unique taste sensation.
Within a shaded sanctuary at Voodoo  Gardens, a massive hit with Letterkenny last Summer, fantastic drink promos include 4 Vodka & Red Bull €15, Bottle of Canadian €2.50..
Be in Voodoo Lounge before 12Midnight and get FREE ENTRY into The Liquor Rooms Letterkenny.
For Prizes and competitions check out our Facebook page: https://www.facebook.com/pages/The-Liquor-Rooms-Letterkenny/896601477078087
Tags: