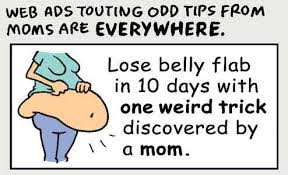 If you have been on the internet in the last few months, you will have seen links to different weight loss products that usually start with 'This one weird Trick'.
They usually are aimed at removing belly fat or dropping 20lbs in a week or numerous other ridiculous weight loss myths that are aimed at getting you to click on the link.
The thing is, there is already one weird trick that is proven to help you get results time and time again.
Want to lose weight? This will help.
Want to get in shape and look great on the beach? This will help.
Want to be able to finally stick to a plan? This will help.
So what is this miracle cure that will help you to achieve the goals that have eluded you for so long?
Consistency.
Say what now?
This can't be right, surly there has to be some sort of trick, or weird diet, or magic pill that I have to use in order to get where I want to be?
You would think that, wouldn't you?
After all we have been lead to believe that if you want to achieve something, there has to be a quick fix that can help you to get there as fast as possible.
For weight loss, this is true.
There are thousands of products that will 'help' you to lose weight.
I use the word 'help' loosely because the product isn't what is 'helping' you to lose the weight.
It is the ridiculously low calorie intake that they recommend you to eat along with their 'miracle' product.
Wait, low calories help with weight loss? Who would have thunk it?
The problem with these products is that they are not sustainable in the long term and once normal eating resumes, your weight returns to normal and even increases.
But what if you didn't always go for the extreme version every time you set a goal?
What if you set out a plan and actually allowed yourself a realistic period of time to reach it?
The extremists will tell you to avoid everything and only to eat 'clean' food.
Don't drink anything except water and God forbid you might put cordial in your water.
Oh and avoid sugar, because sugar is the new devil, you know, just like fat and carbs were before it.
Do you think you could stick to this?
Willpower is finite.
No one can be 100% strict, 100% of the time, and by trying to do so, you're setting yourself up for failure.
You're far better aiming to be 80% compliant ALL the time, than achieving perfection 50% of the time, and being completely off the wagon the other 50%.
Dieting comes down to being "GOOD" consistently.
When I say 'good', I mean getting protein at every meal, eating enough vegetables with each meal, drinking enough water throughout the day and using carbs as the remainder.
I always start people off with the palm sized portion guide.
It is simple, but has been shown, time and time again to work.
1 palm sized portion of protein
2 fist sized portions of vegetables
1 thumb sized portion of fats for cooking or dressings
1 cupped palm sized portion of carbs.
If you consistently did this for 80% of your meals throughout the week and allowed for social occasions and family events when they popped up, you will lose weight.
'But it's not that simple'
It actually is.
Unless you are preparing for a stage show or for a magazine cover shoot you don't have to go to the extreme with your diet.
If you are looking to lose some weight and actually keep it off, "Consistency" is the one weird trick that will help you to get there every time.
#TrainSmart
To keep up to date with fitness and nutrition tips, be sure to follow me through the link below.
https://www.facebook.com/pages/Rushe-Fitness/120518884715118
Tags: