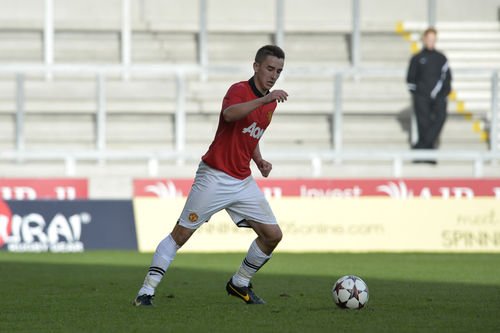 Donegal soccer star Ryan McConnell is desperate to regain full fitness and find a new club in England following his release from Old Trafford.
Manchester United opted against offering McConnell a new contract and released the talented defender in June this year.
The news was a sobering blow for McConnell who had spent THREE years at the Premiership giants.
However, the news didn't come as a surprise to McConnell as he was plagued by injuries last season and only made ONE appearance for the club's U21 and reserve side.
McConnell conceded that it was a devastating blow to be released but said there was no disgrace in being let go by Manchester United.
McConnell believes the experience he has gained during his time at Manchester United will hold him in good stead as he attempts to regain full fitness and find a new club in England.
McConnell has returned to Old Trafford where the club are allowing him to use their medical facilities to get back to full fitness before going on trial at other clubs.
McConnell told The Herald, "There's no disgrace in getting released by Man United.
"They do say that the only way is down when you leave United, but you can start off at the top and drop down.
"I have learned a lot in the time I was here, I felt part of the family and it will be hard leaving it but I have to take it on the chin."
"It is so hard to break through at United. They have the money to go out and buy any player in the world that they want, so you have to be so good to make the breakthrough and it's hard for an Irish lad.
"But at the same time it was a great experience, I learned a lot and I am happy I came here, not many people can say they played for Man United.
"You learn a lot and pick up good habits from the senior pros, players like Jonny Evans were really good to me, helped me out a lot," added the Letterkenny native.
McConnell is hoping to find a club in England but said he is happy to return to Ireland and play in the League of Ireland if he isn't able to win a contract in the UK.
"Since I found out I was being released a lot of people have helped, the head of education at United came to speak to me about my options, it's a great club and I could never say a bad word about United, it was just unfortunate with my injury.
"Finn Harps were on to me about training there but I was happy to come back to Manchester and train with United.
"If it goes well I will get a club over in England, if not I will go home and try my luck in Ireland. My preference would be to get a League One club.
"I have to be realistic as a move to the Championship may not suit as I need to play games. Once I can get a club and get a few games I'd be confident that things can move on for me."
Tags: