Shay Given has thanked the Aston Villa support after he finalised his move to Stoke City over the weekend.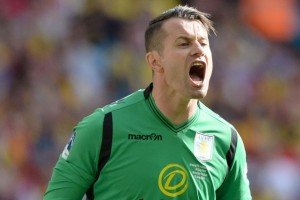 Given had been strongly linked to a move to Middlesbrough earlier in the week.
Given had enjoyed a successful loan spell in 2013 at Middlesbrough and the club were keen to sign the experienced Republic of Ireland international.
However, when Stoke City expressed interest Given was keen to stay in the Premier League and negotiated his release from Villa Park.
Stoke City manager Mark Hughes signed Given when he was manager of Manchester City.
Given played in the FA Cup final for Villa in May and was popular with the club's supporters during his tenure with the club.
Given tweeted his gratitude for that support and said he wished he had played more for the club.
Given tweeted, "Thanks to all the staff, players and fans @AVFCOfficial I wish I had of played more games but wasn't to be, wish u all well for the future.
Given has already trained with his new club as they continue preparations for the new season which gets underway next month.
Tags: