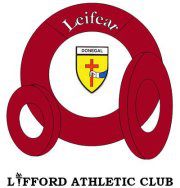 MORE THAN 350 runners took to the streets of Lifford this evening for the annual Lifford 5K, one of the key fixtures in the road racing calendar.
This was the biggest turnout yet for the event, with the race making a change from its traditional route to a start and finish on the athletic track.
With the race still looping the narrow streets of the town twice, it provided a great atmosphere for runners and spectators alike.
Pauric McKinney has been a stalwart of this event since its inception 14 years ago, and again this evening, the veteran Ballindrait man running in the colours of Inishowen AC showed he is still king of the roads, leading the race home in an impressive time of 15.44.
McKinney was followed home by City of Derry duo Christopher McPeake in 16.09 and Dermot McElhinney in 16.13.
In the women's race, City of Derry athlete Catherine Whoriskey led the way home in a fine time of 17.34. Whoriskey was followed home by Derry City track Club's Hannah McGowan in 19.39, with Foyle Valley's Gemma McGinty third in 20.28.
A big thank you from the organising club, Lifford AC to everyone who turned out to support the event and who helped out in any way.
| | | | | | | | |
| --- | --- | --- | --- | --- | --- | --- | --- |
| 1 | Pauric McKinney | Inishowen AC | 360 |     1 Top Fin | 15:44 | 15:44 | M |
| 2 | christopher mc peake | City of Derry Spartans AC | 307 |    2 Top Fin | 16:09 | 16:09 | M |
| 3 | Dermot Mc elhinney | City of Derry Spartans AC | 382 |    3 Top Fin | 16:13 | 16:13 | M |
| 4 | michael crawley | Tri Limits | 450 |    1 M 19-39 | 16:21 | 16:21 | M |
| 5 | Pius McIntyre | Foyle Valley AC | 495 |    2 M 19-39 | 16:22 | 16:22 | M |
| 6 | noel logan | City of Derry Spartans AC | 462 |    3 M 19-39 | 16:31 | 16:33 | M |
| 7 | roy mc gilloway | Foyle Valley AC | 490 |    1 M 0-18 | 16:36 | 16:36 | M |
| 8 | Ciaran Collins | Project Africa Athletics | 104 |    4 M 19-39 | 16:37 | 16:37 | M |
| 9 | kyle doherty | City of Derry Spartans AC | 367 |    5 M 19-39 | 16:41 | 16:41 | M |
| 10 | michael murphy | City of Derry Spartans AC | 391 |    6 M 19-39 | 16:45 | 16:45 | M |
| 11 | Paul Kelly | Lifford AC | 134 |    7 M 19-39 | 17:15 | 17:16 | M |
| 12 | karl doherty | Inishowen AC | 482 |    8 M 19-39 | 17:48 | 17:48 | M |
| 13 | conor mc devitt | | 467 |    9 M 19-39 | 17:25 | 17:25 | M |
| 14 | Cathal Logue | City of Derry Spartans AC | 170 |    10 M 19-39 | 17:27 | 17:27 | M |
| 15 | john mc elhill | Finn Valley AC | 349 |    11 M 19-39 | 17:28 | 17:28 | M |
| 16 | karol mc ginley | Finn Valley AC | 345 |    2 M 0-18 | 17:29 | 17:29 | M |
| 17 | catherine whoriskey | City of Derry Spartans AC | 393 |    1 Top Fin | 17:34 | 17:36 | F |
| 18 | terry murphy | | 469 |    1 M 40-49 | 17:47 | 17:47 | M |
| 19 | damian cox | Omagh Harriers | 384 |    2 M 40-49 | 17:48 | 17:48 | M |
| 20 | tommy mc callion | Rise Running Club | 392 |    12 M 19-39 | 17:51 | 17:51 | M |
| 21 | Paul Coyle | Lifford AC Fit4Life | 231 |    13 M 19-39 | 17:51 | 17:52 | M |
| 22 | Bill Duncan | Lifford AC | 88 |    3 M 40-49 | 17:54 | 17:54 | M |
| 23 | Clint Doherty | Finn Valley AC | 146 |    14 M 19-39 | 18:06 | 18:06 | M |
| 24 | Philip Callaghan | Inishowen AC | 336 |    4 M 40-49 | 18:02 | 18:07 | M |
| 25 | Dara McNulty | Foyle Valley AC | 100 |    5 M 40-49 | 18:09 | 18:09 | M |
| 26 | eddie quigley | City of Derry Spartans AC | 371 |    15 M 19-39 | 18:11 | 18:11 | M |
| 27 | Rodney Campbell | Foyle Valley AC | 113 |    6 M 40-49 | 18:09 | 18:11 | M |
| 28 | Kenny Melaugh | Healthy Bon Fitness | 145 |    16 M 19-39 | 18:13 | 18:14 | M |
| 29 | Derryl McQuade | | 498 |    7 M 40-49 | 18:17 | 18:17 | M |
| 30 | connor mc dowell | Rise Running Club | 459 |    17 M 19-39 | 18:20 | 18:20 | M |
| 31 | Conor Gallagher | Lifford AC | 99 |    18 M 19-39 | 18:20 | 18:21 | M |
| 32 | Cathaoir Purvis | Acorns AC | 372 |    3 M 0-18 | 18:22 | 18:23 | M |
| 33 | James Stevenson | Lifford AC | 298 |    19 M 19-39 | 18:24 | 18:25 | M |
| 34 | Shea Carlin | Lifford AC | 281 |    20 M 19-39 | 18:31 | 18:31 | M |
| 35 | sean whorisky | Rise Running Club | 481 |    21 M 19-39 | 18:30 | 18:34 | M |
| 36 | aron cole | Foyle Valley AC | 354 |    8 M 40-49 | 18:32 | 18:34 | M |
| 37 | Zachary McGowan | Derry City Track Club | 67 |    4 M 0-18 | 18:35 | 18:35 | M |
| 38 | James Donaghey | Convoy AC | 94 |    9 M 40-49 | 18:35 | 18:35 | M |
| 39 | Damian Quinn | Omagh Harriers | 499 |    22 M 19-39 | 18:35 | 18:35 | M |
| 40 | Martin Dunleavy | Foyle Valley AC | 111 |    10 M 40-49 | 18:35 | 18:37 | M |
| 41 | gary mc fadden | Bolt | 468 |    23 M 19-39 | 18:35 | 18:37 | M |
| 42 | John Taylor | Convoy AC | 247 |    1 M 50-59 | 18:36 | 18:38 | M |
| 43 | michael murray | Acorns AC | 400 |    24 M 19-39 | 18:48 | 18:48 | M |
| 44 | peter lilburn | City of Derry Spartans AC | 397 |    1 M 60-99 | 18:50 | 18:50 | M |
| 45 | Kevin McMenamin | Lifford AC | 136 |    25 M 19-39 | 18:49 | 18:51 | M |
| 46 | matthew mc dowell | Rise Running Club | 460 |    26 M 19-39 | 18:52 | 18:56 | M |
| 47 | seamus white | Staffs Moorlands AC | 154 |    27 M 19-39 | 18:56 | 19:01 | M |
| 48 | Vincent Hollywood | Greencastle AC | 105 |    11 M 40-49 | 19:03 | 19:03 | M |
| 49 | shane gallagher | Deele Harps | 305 |    28 M 19-39 | 19:06 | 19:06 | M |
| 50 | michael chambers | Lifford AC | 366 |    29 M 19-39 | 19:06 | 19:06 | M |
| 51 | Paul Connolly | Lifford AC | 232 |    30 M 19-39 | 19:07 | 19:07 | M |
| 52 | declan mc gill | Foyle Valley AC | 357 |    31 M 19-39 | 19:06 | 19:08 | M |
| 53 | john mc fadden | | 332 |    32 M 19-39 | 19:15 | 19:16 | M |
| 54 | Finnbar Gallagher | Inishowen AC | 288 |    12 M 40-49 | 19:17 | 19:17 | M |
| 55 | Conor McLaughlin | Lifford AC | 219 |    33 M 19-39 | 19:18 | 19:18 | M |
| 56 | Philip Kelly | Lifford AC Fit4Life | 102 |    34 M 19-39 | 19:21 | 19:21 | M |
| 57 | Michael McGrinder | Lifford AC Fit4Life | 260 |    13 M 40-49 | 19:19 | 19:22 | M |
| 58 | paul doherty | | 375 |    14 M 40-49 | 19:26 | 19:26 | M |
| 59 | shaun paul byrne | Finn Valley AC | 348 |    15 M 40-49 | 19:26 | 19:26 | M |
| 60 | Joe McCarthy | City of Derry Spartans AC | 258 |    2 M 50-59 | 19:23 | 19:27 | M |
| 61 | ronan haughey | Tir Chonaill AC | 489 |    2 M 60-99 | 19:26 | 19:29 | M |
| 62 | Fionntán Moore | Lifford AC | 130 |    5 M 0-18 | 19:37 | 19:37 | M |
| 63 | Hannah McGowan | Derry City Track Club | 66 |    2 Top Fin | 19:39 | 19:39 | F |
| 64 | manus mc bride | | 487 |    16 M 40-49 | 19:48 | 19:48 | M |
| 65 | John Coyle | Lifford AC Fit4Life | 237 |    17 M 40-49 | 19:46 | 19:57 | M |
| 66 | joseph browne | | 474 |    18 M 40-49 | 19:58 | 19:58 | M |
| 67 | Eamon connolly | Aghyaran Road Runners | 396 |    35 M 19-39 | 20:05 | 20:05 | M |
| 68 | martin anderson | Finn Valley AC | 480 |    19 M 40-49 | 20:11 | 20:13 | M |
| 69 | Gerard Campbell | Lifford AC | 119 |    3 M 50-59 | 20:16 | 20:16 | M |
| 70 | Andrew Leighton | Convoy AC | 147 |    20 M 40-49 | 20:17 | 20:17 | M |
| 71 | Michael Duncan | Lifford AC | 108 |    4 M 50-59 | 20:18 | 20:18 | M |
| 72 | john doherty | | 376 |    5 M 50-59 | 20:14 | 20:18 | M |
| 73 | stephen long | | 497 |    36 M 19-39 | 20:20 | 20:22 | M |
| 74 | Adrian McHugh | Individual | 96 |    21 M 40-49 | 20:26 | 20:26 | M |
| 75 | Gemma McGinty | Foyle Valley AC | 112 |    3 Top Fin | 20:28 | 20:28 | F |
| 76 | Joe McNulty | Lifford AC Fit4Life | 71 |    22 M 40-49 | 20:31 | 20:31 | M |
| 77 | geoff mc gillian | | 463 |    37 M 19-39 | 20:34 | 20:34 | M |
| 78 | Wilson Craig | Lifford AC | 73 |    6 M 0-18 | 20:33 | 20:36 | M |
| 79 | Iggy Houston | Lifford AC Fit4Life | 85 |    6 M 50-59 | 20:34 | 20:37 | M |
| 80 | Henrietta Elves | Inishowen AC | 121 |    1 F 40-49 | 20:38 | 20:38 | F |
| 81 | Dominic Carlin | Lifford AC | 148 |    23 M 40-49 | 20:39 | 20:43 | M |
| 82 | Pádraig magLionsigh | Lifford AC | 137 |    7 M 50-59 | 20:47 | 20:51 | M |
| 83 | Janeen Leese | City of Derry Spartans AC | 87 |    1 F 19-39 | 20:49 | 20:52 | F |
| 84 | richard burke | Rise Running Club | 389 |    38 M 19-39 | 20:54 | 20:54 | M |
| 85 | raymound peoples | | 342 |    39 M 19-39 | 20:45 | 20:55 | M |
| 86 | Daniel Duggan | Lifford AC | 203 |    40 M 19-39 | 20:47 | 20:58 | M |
| 87 | rodney bates | Convoy AC | 309 |    41 M 19-39 | 20:58 | 20:58 | M |
| 88 | Richie Duncan | Castlefinn Running Club | 254 |    24 M 40-49 | 20:55 | 20:59 | M |
| 89 | michael concannon | Rise Running Club | 365 |    8 M 50-59 | 21:00 | 21:00 | M |
| 90 | Garrett McCarron | Lifford AC Fit4Life | 142 |    42 M 19-39 | 21:08 | 21:08 | M |
| 91 | sean mc menamin | Aghyaran Road Runners | 395 |    43 M 19-39 | 21:06 | 21:08 | M |
| 92 | Ciaran McLaughlin | Lifford AC Fit4Life | 222 |    25 M 40-49 | 21:09 | 21:09 | M |
| 93 | ciaran bovaird | | 379 |    26 M 40-49 | 21:11 | 21:11 | M |
| 94 | Adrian Marsh | Individual | 262 |    27 M 40-49 | 21:13 | 21:13 | M |
| 95 | michael gallagher | Foyle Valley AC | 398 |    9 M 50-59 | 21:06 | 21:13 | M |
| 96 | Paul McNamee | Lifford AC | 110 |    10 M 50-59 | 21:11 | 21:15 | M |
| 97 | kieran coyle | KCR | 338 |    28 M 40-49 | 21:11 | 21:16 | M |
| 98 | sinead kenny | Finn Valley AC | 314 |    2 F 40-49 | 21:15 | 21:18 | F |
| 99 | dermot mc granaghan | Castlefinn Running Club | 302 |    29 M 40-49 | 21:15 | 21:18 | M |
| 100 | conor mc gonagle | | 163 |    30 M 40-49 | 21:15 | 21:18 | M |
| 101 | jess moorehead | | 478 |    2 F 19-39 | 21:20 | 21:20 | F |
| 102 | Paddy Tourish | Lifford AC | 69 |    11 M 50-59 | 21:20 | 21:20 | M |
| 103 | alan catterson | Finn Valley AC | 453 |    31 M 40-49 | 21:23 | 21:23 | M |
| 104 | Ita Kelly | Lifford AC | 109 |    3 F 40-49 | 21:24 | 21:24 | F |
| 105 | Liam Cleary | Lifford AC Fit4Life | 230 |    32 M 40-49 | 21:25 | 21:25 | M |
| 106 | Deborah Conroy | Lifford AC Fit4Life | 95 |    3 F 19-39 | 21:25 | 21:25 | F |
| 107 | mark friel | | 164 |    33 M 40-49 | 21:26 | 21:26 | M |
| 108 | sean harkin | Foyle Valley AC | 337 |    34 M 40-49 | 21:29 | 21:29 | M |
| 109 | Declan McAleer | Lifford AC Fit4Life | 238 |    35 M 40-49 | 21:29 | 21:29 | M |
| 110 | Barry Porter | | 241 |    36 M 40-49 | 21:23 | 21:32 | M |
| 111 | george harkin | Born 2 Run | 312 |    12 M 50-59 | 21:26 | 21:34 | M |
| 112 | Lisa McGuigan | Foyle Valley AC | 133 |    4 F 19-39 | 21:27 | 21:35 | F |
| 113 | clare harkin | City of Derry Spartans AC | 394 |    5 F 19-39 | 21:31 | 21:36 | F |
| 114 | damian gallagher | Rise Running Club | 399 |    37 M 40-49 | 21:29 | 21:37 | M |
| 115 | Orla Moran | Foyle Valley AC | 380 |    4 F 40-49 | 21:30 | 21:38 | F |
| 116 | Josephine Donaghey | Convoy AC | 141 |    6 F 19-39 | 21:34 | 21:40 | F |
| 117 | michael houston | City of Derry Spartans AC | 161 |    7 M 0-18 | 21:44 | 21:45 | M |
| 118 | michael mc nulty | | 333 |    38 M 40-49 | 21:43 | 21:45 | M |
| 119 | Paddy Gildea | Convoy AC | 251 |    44 M 19-39 | 21:42 | 21:48 | M |
| 120 | owen coyle | Rosses AC | 326 |    13 M 50-59 | 21:49 | 21:49 | M |
| 121 | brigeen canavan | City of Derry Spartans AC | 465 |    5 F 40-49 | 21:46 | 21:50 | F |
| 122 | clare connor | City of Derry Spartans AC | 466 |    1 F 50-59 | 21:45 | 21:50 | F |
| 123 | Scott Galbraith | | 263 |    45 M 19-39 | 21:52 | 21:52 | M |
| 124 | Patrick McDaid | Lifford AC Fit4Life | 120 |    39 M 40-49 | 21:52 | 21:52 | M |
| 125 | Liam McGillian | | 350 |    46 M 19-39 | 21:54 | 21:54 | M |
| 126 | Kevin Greenan | Letterkenny AC | 227 |    14 M 50-59 | 21:45 | 21:55 | M |
| 127 | eugene mc ginley | | 346 |    40 M 40-49 | 22:05 | 22:05 | M |
| 128 | Ton Bangert | Lifford AC Fit4Life | 226 |    3 M 60-99 | 22:03 | 22:06 | M |
| 129 | dessie gallen | KCR | 339 |    41 M 40-49 | 22:06 | 22:09 | M |
| 130 | patsy mc hugh | | 370 |    42 M 40-49 | 22:03 | 22:10 | M |
| 131 | John Craig | Lifford AC | 72 |    43 M 40-49 | 22:03 | 22:12 | M |
| 132 | Jude McCrossan | Individual | 202 |    8 M 0-18 | 22:14 | 22:14 | M |
| 133 | John McElwaine | Lifford AC | 171 |    47 M 19-39 | 22:08 | 22:15 | M |
| 134 | patricia mc laughlin | Inishowen AC | 160 |    6 F 40-49 | 22:15 | 22:15 | F |
| 135 | Catherine moran | Foyle Valley AC | 381 |    2 F 50-59 | 22:09 | 22:17 | F |
| 136 | bronagh herenin | Tir Chonaill AC | 159 |    7 F 40-49 | 22:18 | 22:18 | F |
| 137 | Don Smith | Convoy AC | 285 |    15 M 50-59 | 22:16 | 22:22 | M |
| 138 | Adrian Sheridan | Omagh Harriers | 200 |    9 M 0-18 | 22:23 | 22:25 | M |
| 139 | Laura Maguire | Individual | 78 |    8 F 40-49 | 22:26 | 22:26 | F |
| 140 | Declan mc cullagh | | 352 |    48 M 19-39 | 22:30 | 22:30 | M |
| 141 | Eugene McGinley | Raphoe Road Runners | 279 |    16 M 50-59 | 22:30 | 22:30 | M |
| 142 | aidan roarty | | 457 |    49 M 19-39 | 22:30 | 22:30 | M |
| 143 | Sharon Hamilton | Aghyaran Road Runners | 86 |    9 F 40-49 | 22:30 | 22:30 | F |
| 144 | helen mc dowell | Rise Running Club | 362 |    7 F 19-39 | 22:31 | 22:31 | F |
| 145 | Brian McMullan | Tir Chonaill AC | 116 |    44 M 40-49 | 22:32 | 22:32 | M |
| 146 | pat shovelin | | 373 |    50 M 19-39 | 22:28 | 22:35 | M |
| 147 | Robert Mitchell | Lifford AC Fit4Life | 68 |    51 M 19-39 | 22:26 | 22:36 | M |
| 148 | Ivor Russell | Knockmany Runners | 139 |    52 M 19-39 | 22:29 | 22:37 | M |
| 149 | Dympna Houston | | 239 |    8 F 19-39 | 22:30 | 22:38 | F |
| 150 | Terence Quinn | Raphoe Road Runners | 276 |    17 M 50-59 | 22:39 | 22:39 | M |
| 151 | Liam Maguire | Lifford AC | 131 |    45 M 40-49 | 22:39 | 22:39 | M |
| 152 | Christopher Cuskelly | Lifford AC | 82 |    46 M 40-49 | 22:40 | 22:40 | M |
| 153 | Stephen Crawford | Lifford AC Fit4Life | 246 |    53 M 19-39 | 22:41 | 22:41 | M |
| 154 | conor hayes | Lifford AC | 353 |    47 M 40-49 | 22:43 | 22:43 | M |
| 155 | Rachel Friel | Lifford AC | 132 |    9 F 19-39 | 22:37 | 22:43 | F |
| 156 | edwina sweeney | Tir Chonaill AC | 157 |    10 F 40-49 | 22:47 | 22:47 | F |
| 157 | Ashleigh McArdle | Lifford AC | 125 |    1 F 0-18 | 22:44 | 22:50 | F |
| 158 | Stephen McCrory | Individual | 280 |    48 M 40-49 | 22:52 | 22:52 | M |
| 159 | Gerard Myers | Individual | 144 |    49 M 40-49 | 22:48 | 22:55 | M |
| 160 | Aoife Nash | Letterkenny AC | 290 |    10 F 19-39 | 22:56 | 22:56 | F |
| 161 | Caroline McGuire | Finn Valley AC | 316 |    11 F 40-49 | 22:59 | 22:59 | F |
| 162 | Carl Houston | Castlefinn Running Club | 255 |    18 M 50-59 | 22:57 | 23:01 | M |
| 163 | Jackie Harvey | Tir Chonaill AC | 223 |    3 F 50-59 | 22:57 | 23:02 | F |
| 164 | Carmel Hoynes | Lifford AC | 149 |    12 F 40-49 | 23:04 | 23:04 | F |
| 165 | Vera Haughey | Tir Chonaill AC | 221 |    4 F 50-59 | 23:06 | 23:06 | F |
| 166 | Martin McCrory | Individual | 289 |    50 M 40-49 | 22:59 | 23:09 | M |
| 167 | Barry McArdle | Lifford AC Fit4Life | 124 |    51 M 40-49 | 23:09 | 23:09 | M |
| 168 | Jacqui Timoney | Lifford AC | 103 |    11 F 19-39 | 23:11 | 23:11 | F |
| 169 | Liam McMullan | Individual | 123 |    52 M 40-49 | 23:07 | 23:13 | M |
| 170 | Brian Doherty | Swanlings | 293 |    53 M 40-49 | 23:19 | 23:19 | M |
| 171 | Tommy Doherty | Drumoghill Running Club | 264 |    19 M 50-59 | 23:20 | 23:20 | M |
| 172 | Damian Monaghan | Lifford AC Fit4Life | 235 |    54 M 40-49 | 23:21 | 23:21 | M |
| 173 | niall mc glinchey | Convoy AC | 464 |    55 M 40-49 | 23:16 | 23:23 | M |
| 174 | Aidan McGrath | Lifford AC Fit4Life | 92 |    56 M 40-49 | 23:16 | 23:24 | M |
| 175 | Darren Reid | Lifford AC Fit4Life | 76 |    57 M 40-49 | 23:27 | 23:27 | M |
| 176 | Paul Houston | | 240 |    54 M 19-39 | 23:30 | 23:30 | M |
| 177 | Ursula Coyle | Lifford AC Fit4Life | 236 |    13 F 40-49 | 23:20 | 23:30 | F |
| 178 | Margaret Shiels | Letterkenny AC | 292 |    14 F 40-49 | 23:31 | 23:31 | F |
| 179 | conor mc garvey | | 347 |    55 M 19-39 | 23:28 | 23:36 | M |
| 180 | chris mc anney | | 156 |    56 M 19-39 | 23:36 | 23:36 | M |
| 181 | willie ferry | WF Running | 363 |    57 M 19-39 | 23:42 | 23:42 | M |
| 182 | gillian smith | Castlefinn Running Club | 315 |    12 F 19-39 | 23:45 | 23:45 | F |
| 183 | Stephen McCay | Lifford AC Fit4Life | 286 |    58 M 19-39 | 23:43 | 23:48 | M |
| 184 | berny love | | 356 |    15 F 40-49 | 23:45 | 23:50 | F |
| 185 | rosemary dewhirst | Tir Chonaill AC | 158 |    16 F 40-49 | 23:51 | 23:51 | F |
| 186 | Gloria Donaghey | Finn Valley AC | 257 |    5 F 50-59 | 23:52 | 23:52 | F |
| 187 | Roisin Logue | Lifford AC Fit4Life | 249 |    13 F 19-39 | 23:54 | 23:54 | F |
| 188 | Sharon Carlin | Lifford AC Fit4Life | 277 |    17 F 40-49 | 23:46 | 23:55 | F |
| 189 | Emma Bates | Convoy AC | 256 |    14 F 19-39 | 23:47 | 23:55 | F |
| 190 | Elaine McGoldrick | Castlefinn Running Club | 252 |    15 F 19-39 | 23:48 | 23:55 | F |
| 191 | john friel | Letterkenny Kickboxing | 321 |    58 M 40-49 | 23:56 | 23:56 | M |
| 192 | mark mc bride | | 488 |    10 M 0-18 | 23:57 | 23:57 | M |
| 193 | Rhonda Porter | Lifford AC Fit4Life | 278 |    16 F 19-39 | 23:58 | 23:58 | F |
| 194 | Simon McGavigan | | 201 |    59 M 19-39 | 23:59 | 23:59 | M |
| 195 | nigel mc gillian | | 351 |    20 M 50-59 | 24:03 | 24:03 | M |
| 196 | Mark Donaghey | Lifford AC | 80 |    59 M 40-49 | 24:08 | 24:08 | M |
| 197 | Oonagh McGuigan | Lifford AC Fit4Life | 118 |    18 F 40-49 | 23:58 | 24:09 | F |
| 198 | Jude McGarrigle | | 234 |    11 M 0-18 | 24:05 | 24:15 | M |
| 199 | Melanie Sweeney | Castlefinn Running Club | 253 |    17 F 19-39 | 24:20 | 24:20 | F |
| 200 | Paul O'Brien | Castlefinn Running Club | 84 |    60 M 19-39 | 24:20 | 24:24 | M |
| 201 | Marjan Bangert | Lifford AC Fit4Life | 225 |    1 F 60-99 | 24:26 | 24:26 | F |
| 202 | christina ferry | Rise Running Club | 361 |    18 F 19-39 | 24:31 | 24:31 | F |
| 203 | Rajesh Meehan | Raphoe Road Runners | 205 |    61 M 19-39 | 24:33 | 24:33 | M |
| 204 | Andrea Porter | Lifford AC Fit4Life | 242 |    19 F 19-39 | 24:27 | 24:36 | F |
| 205 | mark mccurdy | | 311 |    2 F 0-18 | 24:31 | 24:38 | F |
| 206 | Liam Daly | Lifford AC Fit4Life | 70 |    21 M 50-59 | 24:34 | 24:39 | M |
| 207 | dermott kelly | Fighting Fit | 494 |    62 M 19-39 | 24:31 | 24:44 | M |
| 208 | Mary Doherty | Convoy AC | 269 |    20 F 19-39 | 24:38 | 24:45 | F |
| 209 | Alisha Cuskelly | Lifford AC | 83 |    3 F 0-18 | 24:47 | 24:47 | F |
| 210 | Trevor McGlynn | Lifford AC | 228 |    63 M 19-39 | 24:42 | 24:50 | M |
| 211 | Aiden Gallen | Individual | 220 |    12 M 0-18 | 24:51 | 24:51 | M |
| 212 | Sarah Doherty | Convoy AC | 270 |    21 F 19-39 | 24:45 | 24:52 | F |
| 213 | emily mclaughln | Fighting Fit | 496 |    4 F 0-18 | 24:41 | 24:54 | F |
| 214 | lisa o donnell | City of Derry Spartans AC | 479 |    22 F 19-39 | 24:54 | 24:54 | F |
| 215 | keegan gallagher | | 369 |    13 M 0-18 | 24:59 | 24:59 | M |
| 216 | darren mc dermott | | 155 |    60 M 40-49 | 25:00 | 25:00 | M |
| 217 | ciaran mc cauley | Lifford AC Fit4Life | 491 |    61 M 40-49 | 24:52 | 25:01 | M |
| 218 | sabrina spratt | Castlefinn Running Club | 313 |    23 F 19-39 | 24:55 | 25:03 | F |
| 219 | Bernie Martin | KCR | 268 |    6 F 50-59 | 25:04 | 25:04 | F |
| 220 | frances wilson | KCR | 486 |    24 F 19-39 | 24:56 | 25:04 | F |
| 221 | Amanda Heaney | Individual | 79 |    19 F 40-49 | 25:10 | 25:10 | F |
| 222 | Wesley Vance | Individual | 207 |    62 M 40-49 | 24:58 | 25:12 | M |
| 223 | Olivia Cuskelly | Lifford AC Fit4Life | 81 |    25 F 19-39 | 25:10 | 25:17 | F |
| 224 | declan mc callion | Lifford AC Fit4Life | 470 |    22 M 50-59 | 25:07 | 25:18 | M |
| 225 | declan duffy | | 476 |    64 M 19-39 | 25:15 | 25:23 | M |
| 226 | Linda Macbeth | Raphoe Road Runners | 282 |    26 F 19-39 | 25:30 | 25:30 | F |
| 227 | michael friel | | 166 |    63 M 40-49 | 25:15 | 25:30 | M |
| 228 | Thandi Mbuli | | 173 |    27 F 19-39 | 25:14 | 25:33 | F |
| 229 | camillus melaugh | | 343 |    64 M 40-49 | 25:35 | 25:35 | M |
| 230 | Lorraine McGrinder | Lifford AC Fit4Life | 261 |    20 F 40-49 | 25:32 | 25:36 | F |
| 231 | steven elder | | 385 |    65 M 19-39 | 25:33 | 25:38 | M |
| 232 | Angela Doran | Individual | 284 |    21 F 40-49 | 25:40 | 25:40 | F |
| 233 | theresa johnstone | Rise Running Club | 387 |    7 F 50-59 | 25:35 | 25:47 | F |
| 234 | joanne mclaughlin | Rise Running Club | 320 |    22 F 40-49 | 25:48 | 25:48 | F |
| 235 | tom doherty | | 374 |    14 M 0-18 | 25:48 | 25:48 | M |
| 236 | Jarlath McNulty | Individual | 90 |    23 M 50-59 | 25:53 | 25:53 | M |
| 237 | Christine McNulty | Lifford AC Fit4Life | 89 |    23 F 40-49 | 25:53 | 25:53 | F |
| 238 | chris mc cay | Melvin WJR | 451 |    65 M 40-49 | 25:47 | 26:07 | M |
| 239 | catherine morris | Castlefinn Running Club | 301 |    5 F 0-18 | 26:04 | 26:13 | F |
| 240 | peter gorman | Rise Running Club | 390 |    66 M 40-49 | 26:01 | 26:15 | M |
| 241 | Tommy McHugh | Lifford AC Fit4Life | 107 |    24 M 50-59 | 26:06 | 26:17 | M |
| 242 | Eddie Breslin | Lifford AC Fit4Life | 297 |    25 M 50-59 | 26:19 | 26:19 | M |
| 243 | Rhonda Green | Lifford AC Fit4Life | 74 |    24 F 40-49 | 26:10 | 26:20 | F |
| 244 | Kathy McBeth | Lifford AC Fit4Life | 122 |    28 F 19-39 | 26:11 | 26:21 | F |
| 245 | kierean neeson | KCR | 162 |    66 M 19-39 | 26:16 | 26:32 | M |
| 246 | David Meehan | Lifford AC Fit4Life | 250 |    67 M 19-39 | 26:36 | 26:36 | M |
| 247 | rosey mc cafferty | Melvin WJR | 153 |    29 F 19-39 | 26:39 | 26:39 | F |
| 248 | gaynor hindley | Aghyaran Road Runners | 386 |    25 F 40-49 | 26:42 | 26:42 | F |
| 249 | Roisin Kerrigan | Lifford AC Fit4Life | 117 |    26 F 40-49 | 26:44 | 26:44 | F |
| 250 | Helena Bryson | Lifford AC | 243 |    30 F 19-39 | 26:50 | 26:50 | F |
| 251 | elaine parke | Convoy AC | 310 |    31 F 19-39 | 26:54 | 26:54 | F |
| 252 | Michelle Rouse | Lifford AC Fit4Life | 101 |    32 F 19-39 | 26:58 | 26:58 | F |
| 253 | Joe Breslin | Lifford AC Fit4Life | 233 |    26 M 50-59 | 26:54 | 27:04 | M |
| 254 | Ursula O'Neill | Lifford AC Fit4Life | 244 |    27 F 40-49 | 26:57 | 27:10 | F |
| 255 | Mandy Hume | Lifford AC Fit4Life | 245 |    28 F 40-49 | 27:22 | 27:22 | F |
| 256 | derek mc gillian | Melvin WJR | 359 |    67 M 40-49 | 27:06 | 27:24 | M |
| 257 | Peter Mackey | Individual | 77 |    68 M 19-39 | 27:30 | 27:30 | M |
| 258 | Kay Bonner | Convoy AC | 140 |    8 F 50-59 | 27:34 | 27:34 | F |
| 259 | yvonne wauchope | Melvin WJR | 151 |    29 F 40-49 | 27:21 | 27:37 | F |
| 260 | Rónán Nelis | Melvin WJR | 304 |    68 M 40-49 | 27:22 | 27:43 | M |
| 261 | Margaret williamson | Melvin WJR | 383 |    33 F 19-39 | 27:44 | 27:44 | F |
| 262 | Teresa McMenamin | Aghyaran Road Runners | 265 |    34 F 19-39 | 27:29 | 27:45 | F |
| 263 | Sarah Hunter | Drumoghill Running Club | 283 |    9 F 50-59 | 27:49 | 27:49 | F |
| 264 | donna chambers | KCR | 485 |    35 F 19-39 | 27:53 | 27:53 | F |
| 265 | karen mc gillian | Melvin WJR | 358 |    30 F 40-49 | 27:58 | 27:58 | F |
| 266 | Caroline McCurdy | Lifford AC Fit4Life | 129 |    31 F 40-49 | 28:10 | 28:16 | F |
| 267 | Carmel Brindle | Lifford AC Fit4Life | 224 |    32 F 40-49 | 28:16 | 28:16 | F |
| 268 | darragh gallagher | | 368 |    15 M 0-18 | 28:18 | 28:18 | M |
| 269 | Kevin Boyle | Lifford AC Fit4Life | 138 |    4 M 60-99 | 28:20 | 28:20 | M |
| 270 | carolyn mc geehan | Rise Running Club | 447 |    36 F 19-39 | 28:24 | 28:24 | F |
| 271 | noel carr | | 456 |    69 M 19-39 | 28:26 | 28:26 | M |
| 272 | chris mc cormack | Rise Running Club | 484 |    70 M 19-39 | 28:27 | 28:27 | M |
| 273 | Kate Mullen | Lifford AC Fit4Life | 271 |    33 F 40-49 | 28:31 | 28:31 | F |
| 274 | Donna McKelvey | Drumoghill Running Club | 267 |    37 F 19-39 | 28:40 | 28:40 | F |
| 275 | Christine Patton | Lifford AC Fit4Life | 97 |    38 F 19-39 | 28:52 | 28:52 | F |
| 276 | Sarah Gillen | Convoy AC | 248 |    39 F 19-39 | 29:02 | 29:02 | F |
| 277 | Nuala Allen | Raphoe Road Runners | 259 |    10 F 50-59 | 28:55 | 29:08 | F |
| 278 | Paul Brolly | Raphoe Road Runners | 287 |    69 M 40-49 | 28:55 | 29:08 | M |
| 279 | gerard harkin | Rise Running Club | 449 |    70 M 40-49 | 29:16 | 29:30 | M |
| 280 | marie gallagher | | 388 |    40 F 19-39 | 29:33 | 29:33 | F |
| 281 | christine gillespie | Rise Running Club | 483 |    41 F 19-39 | 29:35 | 29:35 | F |
| 282 | michelle morris | Castlefinn Running Club | 300 |    34 F 40-49 | 29:27 | 29:36 | F |
| 283 | david devlin | | 306 |    71 M 40-49 | 29:42 | 29:42 | M |
| 284 | laura roulston | Melvin WJR | 492 |    42 F 19-39 | 29:58 | 29:58 | F |
| 285 | karen anne mc ginley | Melvin WJR | 493 |    43 F 19-39 | 29:42 | 29:59 | F |
| 286 | gemma patton | Melvin WJR | 150 |    44 F 19-39 | 29:45 | 30:01 | F |
| 287 | mary o donnell | Swanlings | 340 |    11 F 50-59 | 30:03 | 30:13 | F |
| 288 | laurA mc ginley | Drumoghill Running Club | 341 |    45 F 19-39 | 30:19 | 30:19 | F |
| 289 | Tracey McMenamin | Aghyaran Road Runners | 143 |    46 F 19-39 | 30:12 | 30:23 | F |
| 290 | Rose Lynch | Individual | 204 |    47 F 19-39 | 30:15 | 30:29 | F |
| 291 | eimour lynch | | 168 |    16 M 0-18 | 30:29 | 30:29 | M |
| 292 | gill baird | | 471 |    35 F 40-49 | 30:31 | 30:31 | F |
| 293 | Melissa Gillespie | Lifford AC Fit4Life | 98 |    48 F 19-39 | 30:39 | 30:48 | F |
| 294 | catherine mc crory | Aghyaran Road Runners | 477 |    49 F 19-39 | 30:50 | 30:50 | F |
| 295 | Orla McNulty | Lifford AC Fit4Life | 91 |    50 F 19-39 | 30:41 | 30:55 | F |
| 296 | carrie burke | | 355 |    51 F 19-39 | 31:02 | 31:02 | F |
| 297 | anna mortimore | Melvin WJR | 331 |    6 F 0-18 | 31:18 | 31:18 | F |
| 298 | Ivy | KCR | 172 |    36 F 40-49 | 31:28 | 31:28 | F |
| 299 | kathleyn stevenson | Lifford AC | 335 |    7 F 0-18 | 31:47 | 31:47 | F |
| 300 | Heather Montgomery | | 266 |    52 F 19-39 | 31:51 | 31:51 | F |
| 301 | annie duffy francis | Rise Running Club | 475 |    37 F 40-49 | 31:53 | 31:53 | F |
| 302 | mandy o carroll | Rise Running Club | 446 |    53 F 19-39 | 31:53 | 31:53 | F |
| 303 | Yvonne McGarvey | Lifford AC Fit4Life | 294 |    12 F 50-59 | 32:04 | 32:04 | F |
| 304 | bernie devine | Melvin WJR | 303 |    38 F 40-49 | 32:03 | 32:21 | F |
| 305 | laura mc colgan | Melvin WJR | 330 |    54 F 19-39 | 33:01 | 33:18 | F |
| 306 | angela connolly | Raphoe Road Runners | 452 |    55 F 19-39 | 33:24 | 33:24 | F |
| 307 | Clare Elliott | Lifford AC | 126 |    56 F 19-39 | 33:20 | 33:33 | F |
| 308 | Conor Heffernan | Individual | 115 |    17 M 0-18 | 33:22 | 33:34 | M |
| 309 | Kevin Heffernan | Lifford AC Fit4Life | 114 |    27 M 50-59 | 33:24 | 33:35 | M |
| 310 | Jayne McIlwaine | Raphoe Road Runners | 135 |    39 F 40-49 | 33:52 | 34:05 | F |
| 311 | stephanie mc colgan | Melvin WJR | 327 |    57 F 19-39 | 34:20 | 34:20 | F |
| 312 | Mara McArdle | Lifford AC | 127 |    8 F 0-18 | 34:22 | 34:35 | F |
| 313 | Una O'Donnell | Lifford AC | 272 |    9 F 0-18 | 34:48 | 34:48 | F |
| 314 | clodagh catterson | | 473 |    10 F 0-18 | 34:45 | 34:59 | F |
| 315 | Lauren McGrath | Lifford AC | 93 |    11 F 0-18 | 34:51 | 35:04 | F |
| 316 | Jacqueline Cleary | Lifford AC Fit4Life | 229 |    40 F 40-49 | 34:56 | 35:10 | F |
| 317 | lorc an friel | | 167 |    18 M 0-18 | 35:23 | 35:39 | M |
| 318 | louis gallagher | | 165 |    19 M 0-18 | 35:23 | 35:39 | M |
| 319 | farrah steveson | Lifford AC | 334 |    12 F 0-18 | 36:15 | 36:15 | F |
| 320 | sarah mc carron | | 472 |    58 F 19-39 | 36:10 | 36:24 | F |
| 321 | Margaret McGarvey | Lifford AC Fit4Life | 296 |    13 F 50-59 | 36:35 | 36:49 | F |
| 322 | lee wood | Lifford AC | 322 |    20 M 0-18 | 37:08 | 37:26 | M |
| 323 | Angela McHugh | Lifford AC Fit4Life | 299 |    59 F 19-39 | 37:38 | 37:38 | F |
| 324 | paula mc gettigan | Melvin WJR | 328 |    60 F 19-39 | 37:55 | 37:55 | F |
| 325 | lorraine smalls | Rise Running Club | 448 |    41 F 40-49 | 38:23 | 38:23 | F |
| 326 | wanda patton | Melvin WJR | 152 |    61 F 19-39 | 38:23 | 38:23 | F |
| 327 | Paula concannon | Rise Running Club | 364 |    42 F 40-49 | 38:24 | 38:24 | F |
| 328 | jessica wood | | 325 |    13 F 0-18 | 38:43 | 38:43 | F |
| 329 | judith smith | Donoughmore | 319 |    43 F 40-49 | 39:10 | 39:25 | F |
| 330 | jean gillen | | 169 |    14 F 50-59 | 39:12 | 39:26 | F |
| 331 | dympna mc cauley | | 318 |    15 F 50-59 | 39:33 | 39:48 | F |
| 332 | geraldine kelly | Rise Running Club | 454 |    2 F 60-99 | 39:56 | 39:56 | F |
| 333 | michelle sweeney | Rise Running Club | 455 |    44 F 40-49 | 39:58 | 39:58 | F |
| 334 | AíneMarie McBride | Lifford AC | 274 |    14 F 0-18 | 40:02 | 40:02 | F |
| 335 | Kiera Green | Lifford AC | 75 |    15 F 0-18 | 40:03 | 40:03 | F |
| 336 | majella coyle | | 324 |    62 F 19-39 | 40:45 | 40:45 | F |
| 337 | keelan mc cullagh | | 323 |    21 M 0-18 | 40:45 | 40:45 | M |
| 338 | Joan McHugh | Lifford AC Fit4Life | 106 |    16 F 50-59 | 40:53 | 40:53 | F |
| 339 | charlotte neeson | | 317 |    3 F 60-99 | 47:15 | 47:30 | F |
| 340 | john patrick doherty | | 377 |    22 M 0-18 | 49:13 | 49:33 | M |
| 341 | martin lynch | | 378 |    72 M 40-49 | 49:21 | 49:41 | M |
|   DNF | Hayley McIntyre | Lifford AC Fit4Life | 128 |      F 19-39 | | | F |
|   DNF | Eamon McConnell | Castlefinn Running Club | 206 |      M 40-49 | | | M |
|   DNF | Muireann McBride | Lifford AC | 273 |      F 0-18 | | | F |
|   DNF | Catherine McBride | Lifford AC Fit4Life | 275 |      F 40-49 | | | F |
|   DNF | Clíodhna Dunne | Letterkenny AC | 291 |      F 19-39 | | | F |
|   DNF | patricia o donnell | | 308 |      F 40-49 | | | F |
|   DNF | carmel moritmore | Melvin WJR | 329 |      F 40-49 | | | F |
|   DNF | amanda steveson | Drumoghill Running Club | 344 |      F 19-39 | | | F |
|   DNF | james brown | City of Derry Spartans AC | 458 |      M 40-49 | | | M |
|   DNF | gary slevin | | 461 |      M 19-39 | | | M |
| | | | | | | | |
Tags: