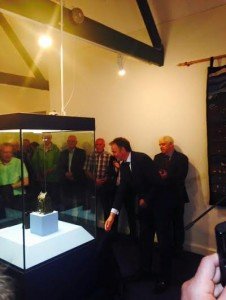 Donegal County Museum is to get a funding boost of €7,500 under the 2015 Local and Regional Museums Scheme, says Minister of State Joe McHugh.
Donegal County Museum is an important attraction for both locals and tourists.
This funding for "Commemoration of Events from 1916 from a Donegal Perspective" will help improve what the museum can offer and enhance the experience it can provide to visitors.
Said McHugh: "Local and regional museums around Ireland provide an important focal point for their communities and play a vital role in collecting and dispensing local knowledge. I have attended various functions in the Donegal County Museum in recent weeks and months, including the World War 1 Photographic Exhibition and the recent Exhibition of St. Conall Cael's Bell, and I have witnessed first-hand the importance of museums such as this.
"The 2015 Local and Regional Museums Scheme supports small and medium sized museums and allows for the funding of small capital projects on a matching funding basis, with total funding of over €120,000 being made available nationwide.
"This investment for Commemoration of Events from 1916 will allow the Donegal County Museum to continue to make a significant contribution to the locality, as well as to the development and promotion of cultural tourism in Ireland.
"Under this Fine Gael led government, the tourism sector is booming. Almost 200,000 people are employed in tourism and 8,000 additional jobs will be created in 2015. Fine Gael is standing up for rural Ireland and working to make sure that the economic recovery is felt across the country."
Tags: