Jim McGuinness has given his analysis on yesterday's Ulster SFC final and believes Donegal are still better placed than the new Ulster champions to go further in the All-Ireland series.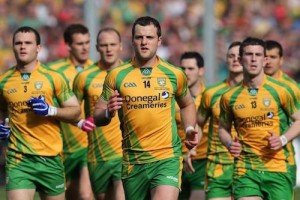 Donegal went down narrowly by just one point and kicked a huge number of wides which ultimately cost them dearly in the end.
Donegal pegged them back in the closing stages and almost snatched a replay late-on but Patrick McBrearty's effort was adjudged to have gone wide.
Monaghan failed to score in the last twenty minutes and were desperately hanging on at the end.
The general consensus was that if Donegal had their shooting boots on, they would have retained their Ulster title.
As faith would have it – it didn't pan out like that and now Rory Gallagher and his side will prepare for a qualifier clash with Galway in a fortnight's time.
BACK-DOOR ROUTE:
Former manager McGuinness said in his weekly column with The Irish Times – that despite the setback he wouldn't be writing Donegal off and feels they're better placed than Monaghan to go further.
"The defeat will be painful for Donegal but they will learn so much from it. The key for Donegal now is to respond to the challenges they encountered on Sunday.
"Despite the result, I feel Donegal are better placed to go further in the All-Ireland than the Ulster champions.
"What we saw on Sunday was a very smart game plan executed to the letter of the law by Monaghan yet they still just about got over the line.
MCBREARTY:
McGuinness also praised Patrick McBrearty's performance and said while he'll be disappointed with the late miss – feels he's be one of the main reasons Donegal made the Ulster SFC final.
"Late in the game, McBrearty kicked a couple of fantastic points – just as he did last year.
"The wide was tough on him at the end but I think Patrick's performances all summer have been one of the main reasons Donegal made it to the Ulster final.
MURPHY FITNESS:
McGuinness also felt that it was very clear that Donegal's captain and talisman Michael Murphy was injured – he felt because of his injury he would have been better utilized inside.
"Monaghan people won't like to hear this but it seems to me Michael Murphy played injured. He was heavily strapped and he wasn't moving freely.
"For the ball he kicked away that led to Conor McManus's last point before the break, he was unable to chase back the way he normally does.
"Michael's injury would have been easier on him if he had been full forward and it would have tied up a few more of Monaghan's players.
ALL-IRELAND HOPES:
McGuinness says it would be very premature to write Donegal off pointing to the fact at the amount of opportunities missed – which he feels can be rectified.
"Donegal will be hit hard by this but they have two weeks now to take a breath.
"I wouldn't be writing them off just yet."
Tags: