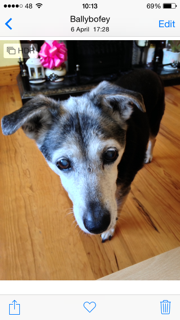 MISSING DOG: Yet another dog has vanished in a worrying trend now developing across Donegal.
Almost every week we carry stories appealing to the public for information on dogs that have gone missing.
While some owners are thankfully reunited with their pets – many aren't and are devastated at the fact they've lost their beloved pet.
Many feel these dogs are being snatched by people looking to make a quick dollar by selling them on.
Another Donegal Daily reader, Olive Gallagher contacted us earlier asking to share the following post on our website.
"Just letting you know that my dog went missing from Sessiaghoneill on Saturday morning.
"She is a black and white collie called Lady.
"She is 16yrs old, totally blind and deaf, and has never been outside our house and garden before.
"Lady seems to have vanished and we're just heartbroken that we can't find her.
"Any help would be greatly appreciated.
Tags: